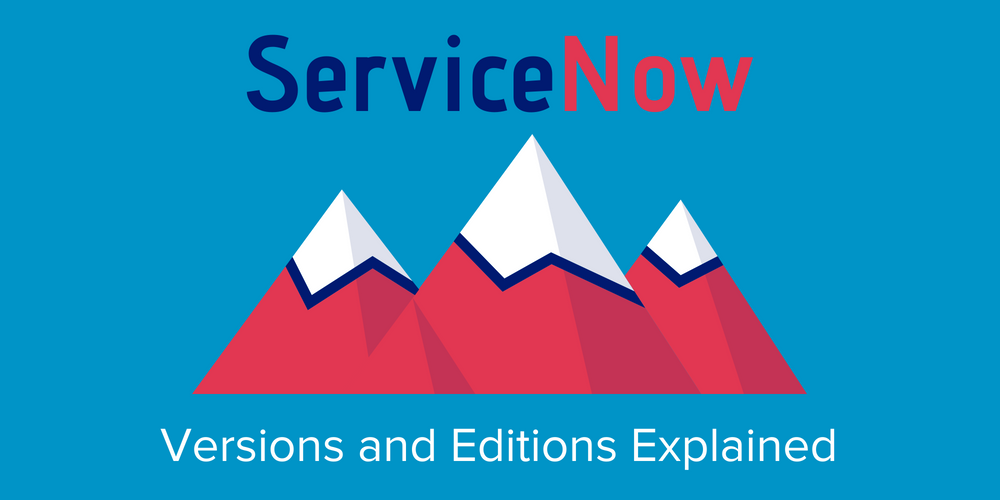 Even as far as tech companies go, ServiceNow can rightly be considered prolific, as the platform releases two new ServiceNow versions each year from its head office in the heart of Silicon Valley, Santa Clara, CA.
For those who may not know, ServiceNow is a cloud-based IT management tool. Using ServiceNow IT Service Management (ITSM) in the cloud can transform and streamline your IT offering and infrastructure. Various separate tools and legacy systems can be brought under one umbrella program, while other aspects can be automated. This works particularly well with service management processes, allowing you to implement actions across your business with ease thanks to user-friendly interfaces and drag-and-drop tools.
ServiceNow strives to make any of its functions simple to learn, effortless to configure, and quick to deploy, so you should never have to worry about being lost in a dense or complex system.
That being said, while ServiceNow is easy to use, it can require a comprehensive knowledge to master. To really get the most out of ServiceNow, developers will need to have a good grasp of client scripts, business rules, UI macros, script includes, and more.
ServiceNow boasts that its product allows you to 'gain complete portfolio and financial visibility, align better with the business, and accelerate service delivery'. The fact that it has grown into an employer of over 4,500 staff in 14 years and has a revenue of $1.93 billion shows that it has a huge customer base that believes ServiceNow can help them achieve these goals.
ServiceNow Versions – a brief history

Versions of ServiceNow stretch back over a decade, when the company (which had recently changed its name from Gl­idesoft) rolled out a version labeled 'Summer 2007'.
What followed was a periodic release schedule, which saw the release of up to three different versions of ServiceNow each year. At this point, between 2007 and 2011, ServiceNow versions had yet to adopt a city-based naming pattern, and instead were named after the seasons (later months) in which they were released. These releases included:
Summer 2007
Fall 2007
Summer 2008
Winter 2009
Spring 2009
Fall 2009
Winter 2010
Spring 2010
Fall 2010
Winter 2011
June 2011
October 2011
After October 2011, the naming convention of ServiceNow versions changed to follow a different pattern. The new approach sees each edition receive its designation based on a city, and following alphabetical order. The first world city to be honored was Aspen in 2012 (although it's a little-known fact that Amsterdam was all set to be announced as the title until only hours before launch), with Berlin following. There have now been ten ServiceNow versions released in the last six years with different geographical-themed names. According to the ServiceNow versions list, these are:
Aspen
Berlin
Calgary
Dublin
Eureka
Fuji
Geneva
Helsinki
Istanbul
Jakarta
The current release is named Kingston.
Kingston – ServiceNow latest version and beyond

Released in January 2018, Kingston is the name given to the latest ServiceNow solution. Most likely named after the biggest city in Jamaica, Kingston includes a range of new features and improvements that set it apart from previous iterations.
In terms of IT services management, updated Kingston versions of ServiceNow offer users a supervised machine learning capability that automates incident categorization for a faster response and resolution time. There's also one-click access to order status and wish lists, use of benchmark data to create personalized recommendations, and major incident management. The latter is an end-to-end, full process solution that brings 'Incident', 'Incident Alert' and 'Outage' functions under one roof, and includes a workbench that houses all the information needed to improve collaboration and communication between the technical team and the rest of the business.
Kingston also includes the following features:
Continuous Monitoring – part of Kingston's risk management program, Continuous Monitoring uses the new Configuration Compliance application to keep all the relevant systems working in harmony. Continuous Monitoring will automatically flag technical control changes, allowing you to review, respond to, or even simply mark issues that it highlights in the Policy and Compliance dashboard.
Configuration Compliance – Speaking of the new Configuration Compliance application, it will identify vulnerable or misconfigured software and suggest actions that can be taken to improve security. Configuration Compliance uses a risk score calculator and data from elsewhere in the system to prioritize the necessary action with workflow, orchestration or automation. It can also share data to feed back into continuous monitoring.
Improved Budgeting and Forecasting – Kingston's new grid interface and drag-and-drop functionality allows for easier analyzing of budget and forecast data across time periods and using multiple elements.
Greater Third-party Data Support – ServiceNow users can now use third-party data to inform their processes. Data imported from MySQL, Oracle, and SQL databases gives greater insight alongside ServiceNow indicators and breakdowns.
Application Content Integration – Content from extra ServiceNow content (independent of the main releases), such as Service Mapping patterns and Cloud Management integrations, can now be added with ease as soon as it becomes available thanks to improved Cloud Management and Service Mapping.
Embedded Connect – Part of the Employee Service Center and Case and Knowledge Management tools, Embedded Connect uses real-time responses to team member inquiries. This means instant collaboration with relevant departments, with your HR team maintaining control over chat hours available, the tasks that are appropriate, and who is authorized to react and respond.
Role-based Dashboards – Kingston's role-based dashboard gives those at all levels of the business, from executives and management through to individual agents, job-specific demands and a place to easily access them. Key performance indicators (KPIs) are well established and easy to follow, and include costs, time taken to resolve issues, agent analysis, problem cases, open case backlogs and more.
"The ICT landscape is always evolving, and with two major version releases each year ServiceNow provides new benefits and enhancements that align with the changing landscape," explains Claudia Couzi, Head of Service Integration & Management at AC3.
"The latest release, Kingston, introduced machine learning. This is one of our favorite innovations of the release, as it unlocks the potential for supervised machine learning that can be tailored to each customer and their data.
"More of our favorites include the Major Incident Management Workbench and Flow Designer. However, the biggest impact for us was implementing Automated Test Framework (ATF) as a strategic tool for streamlining our upgrade. While this feature was first released in Istanbul, it was further enhanced in both Jakarta and Kingston, and has allowed us to reduce our manual testing from two people testing for eight hours, to one person for three hours."
Not a company to sit back and relax after launching new versions of ServiceNow, it has already been announced that the next two releases will be titled London and Madrid, respectively. Given the history of the ServiceNow release management schedule, it would be fair to expect London to arrive later this year, bookending 2018 alongside Kingston, with Madrid landing at the beginning of 2019.
Kingston is still reasonably new, with developers only just now getting to grips fully with its suite of abilities. Because of that, nobody yet knows what will come next in London and Madrid, or what will come after. Historical evidence suggests that it shouldn't be too long until the names of the next one, two, or even three versions of ServiceNow are unveiled. ServiceNow is constantly evolving, and its unwillingness to provide its clients with anything less than cutting-edge technology and tools means there's never long to wait for news.
How to check your ServiceNow version

If you are unsure whether or not you have the latest upgrade and need to know how to check your ServiceNow version, the good news is it's a simple process.
Firstly, go to the 'systems diagnostics' tab on your dashboard.
Next, find the 'settings' section. Select it.
You should now be presented with various technical data related to the ServiceNow version or build that you are currently using. This will include both the build name and build date, allowing you to see whether or not you are operating on the latest ServiceNow platform.
If you are using a previous version of ServiceNow, you can find a step-by-step guide to upgrading on the ServiceNow website here.
ServiceNow Editions
While in the past there were multiple editions of ServiceNow available on the market (including ServiceNow Gold edition, ServiceNow Diamond edition, ServiceNow Business edition, and others), today there is much less of a focus placed on tiers of usability. Instead, there is ServiceNow Enterprise edition and the more streamlined, lightweight, ServiceNow Express edition.
While pricing is not likely to be the main concern that a business considers when choosing between ServiceNow Enterprise edition and ServiceNow Express edition, it does bear mentioning. Enterprise licensing costs around $100 per month per IT process user, while Express takes that price to $50. Of course, that doesn't include the cost of packages and implementation, which can start at nearly $70,000 for a comprehensive Enterprise experience. Express on the other hand can prove to be a lot cheaper, as it can be used 'as is', or out of the box, with customization and implementation.
It's true then that the Express edition of ServiceNow may appear tempting, but the caveat is that it comes with greatly reduced functionality compared to what you get with customized Enterprise versions of ServiceNow. For a start, there are no scripts that customers or partners can interact with, only pre-configured UI Policies and Business Rules. There's also no workflow engine, with Express instead offering Execution Plans as a simple way of viewing activities and delivering service. If your request fulfillment process is reasonably straightforward, then this may make Express an attractive option.
Enterprise features a dedicated and heavily customizable CMS function that allows you to build an interface that is unique using ServiceNow, a feature that is decidedly lacking in Express. Instead, Express has a catalog accessible from the web interface, but the personalization options are extremely limited. There's also the matter of plugins to consider. ServiceNow Enterprise comes with the option of utilizing hundreds of different plugins, whereas Express is severely limited as it has none whatsoever.
Thankfully it is fairly easy to sample Express and then upgrade to Enterprise, but it's hard to see large businesses with appropriately dedicated teams plumping for the thinner Express model.
A constantly evolving and adapting IT solution, the latest ServiceNow versions are arguably best utilized at full strength.
Want to know more about the ServiceNow ecosystem?
The Nelson Frank Salary Survey provides further insight into the ServiceNow community, from platform trends to remuneration. Complete the form below and receive your PDF report in seconds.
For regular insights into ServiceNow technology and how it can help your business, subscribe to the Nelson Frank blog today.