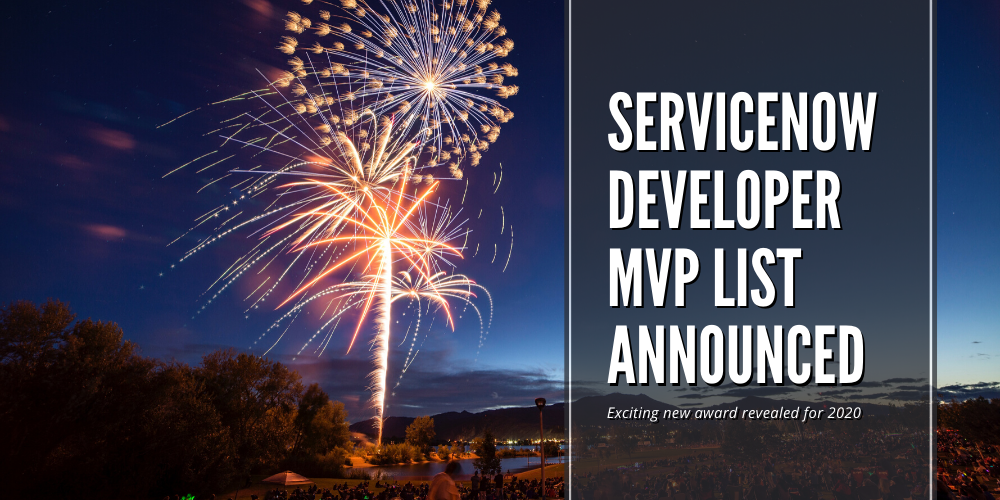 The world of ServiceNow had some brilliant news last week with the announcement of its new ServiceNow Developer MVP Program. Aiming to highlight the work of those members of the community who focus on improving the lives of Developers, it's the ServiceNow equivalent of a Hall of Fame.
ServiceNow The company recognizes the value these people bring to the ecosystem with their selfless commitment to sharing their knowledge and helping their peers. These are individuals who are independent of ServiceNow, and have dedicated their time to engaging with and guiding the community they work in. Whether that's through speaking at events or contributing to online conversations and forums, they make the ecosystem a better place.
Of course, we already knew how valuable their contributions were, as we named a number of them. No matter if you're a seasoned pro or just starting out in your ServiceNow career, the odds are that you'll have benefited from leaning on at least one of these resources for advice, help or guidance.
A huge congratulations, therefore, to the following 14 individuals who have been named in 2020's MVP list:
---
Andrew Pishchulin
With 15 years of experience in project and product management, Andrew has been involved in over 20 different ServiceNow developments since 2016. A speaker at the last two Knowledge events, he's certainly used his experience of complex ServiceNow implementations to benefit the wider Developer community, as well as being an advocate for modern web development in the platform.
---
Andrew Albury-Dor
Already an Expert Level 2 within the Now Community, Andrew, who is based in Brisbane, Australia, is another welcome addition to the rollcall. His blog is in its infancy but looks on its way to becoming a valuable resource for ServiceNow opinions, tips and news. He has a decade's worth of technical expertise that he brings to the ecosystem, including in the areas of Service Delivery and Operations. Andrew also recently participated in an episode of the Live Coding Happy Hour stream.
---
Earl Duque
He's not just new to ServiceNow, but to tech full stop! With just three years of experience in IT, it speaks volumes about Earl's passion for the platform that he's already been named as a ServiceNow Developer MVP. A warmly-received speaker at Knowledge 2019 in Las Vegas, and participating in other workshops and sessions, it's no wonder that Earl has been recognized for his passion and enthusiasm.
---
Gaurav Choudhury
Not only is Gaurav a keen contributor to the ServiceNow Community, he's a SNUG Leader and a regular host of Dev Meetups. Based in Hyderabad, India, he's been a prominent voice in helping the dev community in Asia, and his evangelistic approach to the platform means that it's no surprise he has been acknowledged for his efforts. A wonderful example of a ServiceNow professional with a real passion for sharing his knowledge.
Jace Benson
In a recent blog we asked several ServiceNow experts who they turned to for news and resources, and a number of them mentioned Jace's blog, so it makes perfect sense that he was named in the inaugural list of Developer MVPs. A prolific blogger, he's also keen to help people within the Community platform, supply a staggering amount of useful answers and reaching out to those in need. Jace is the perfect advocate of ServiceNow and a truly deserving name in the Developer hall of fame.
---
Jarod Mundt
Even before switching his focus to ServiceNow, Jarod was a keen advocate within tech circles, organizing meetups for IT pros in the Colorado area. Since gaining his Developer certification in 2017, Jarod has become a valued member of the ServiceNow Community, proving to be an authoritative and reliable voice.
---
Jim Coyne
Jim has been working in IT Professional Services for over 20 years, so there's not much he hasn't seen or done in that time. As a winner of the first ever ServiceNow Members Choice Spotlight Award, it's fitting that he's also named on the first Developers MVP list. Jim has spent the last decade working with ServiceNow and is a keen mentor to the next generation of tech talent, using his expertise to help other Community members and providing solutions to a number of complex issues. From day-to-day tasks, to full implementation, Jim's very much a veteran of the platform, and has become a valued presence amongst his peers.
---
Kalaiarasan Pushpanathan
Another member of the platform who was named by our experts as a person to follow, Kalaiarasan was destined for the ServiceNow All-Star team. He was named as a Community MVP in 2015, 2016, 2017 and 2018, before making the list as a Developer MVP in 2020. Having mastered ServiceNow, he's also going through Salesforce training in his spare time, which shows just how much he lives and breathes the digital world and the solutions available within it! If that wasn't enough, he submitted a staggering amount of responses to questions within ServiceNow Community, showing his dedication to sharing his knowledge with others.
---
Mark Roethof
As well as being a keen basketball coach, Mark is helping to develop ServiceNow professionals around the globe, too. With well over a decades' worth of experience within ITSM, he's published a number of great pieces on ServiceNow Community, providing the ecosystem with valuable insight and helping professionals to get wins with great slam dunks on the platform. He may be the only person on this list to combine being a tech superstar with a sports coach, but his approach to improving people's skills is evident throughout his life, and his MVP award is recognition of this. Mark is the go-to Twitter resource if your interests are ServiceNow and Dutch basketball!
Mark Scott
We recently named Mark as one of the experts you should be following, so it's a relief that ServiceNow agreed with us and awarded him the status of MVP! Since becoming a part of the ServiceNow sphere in 2013, Mark has built up his knowledge and expertise and is a valued member of Community, where he freely passes this on. His Twitter posts are super helpful; a mix a tech know-how and inspiration, he's definitely a person you should be following.
---
Nathan Firth
Nathan has over 20 years' experience in web application development and UI/UX design, and joined ServiceNow in 2012, before building up his experience with the platform, both in and outside of the company.  His MVP award comes after his active engagement with Community users in order to share his expertise with others.
---
Sumeet Ninawe
Sumeet has worked as a ServiceNow Developer for close to ten years now, so his spot on the list of Developer MVPs is well-deserved. Based in Mumbai, India, his answers on the ServiceNow Community are well-received and he's a valued member of the sphere. Hosting Developer Meetups in Asia, there's no doubting Sumeet's dedication towards his peers within the platform.
---
Travis Toulson
Last but not least is Travis, who we also named on our list of experts you should be following, and who has made a valuable contribution to the ServiceNow community. Whether that's through his own blog, or submitting awesome content for other publications, Travis' selfless commitment to the platform cannot be doubted. He's been a part of the ecosystem since 2011, and was twice named as a Community MVP due to being a constant source of help to others.
Keep up to date with ServiceNow roles available
Sign up for our jobs by email service and get the hottest opportunities delivered straight to your inbox.