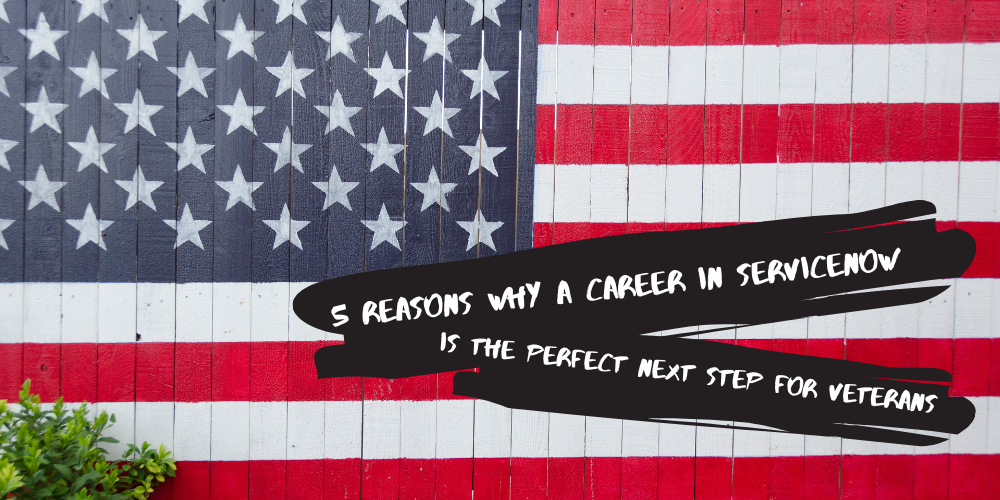 As a Veteran looking for your next big career move there are many exciting options ahead of you, but technology is proving a lucrative option for those seeking stability as well as a great salary. With a massive global skills shortage facing the tech industry, it's in dire need of a new generation of skilled workers, and employers are increasingly looking at new ways to fill the gaps.
While some may have previously seen the tech sector as something of a closed shop, the explosion of new tech roles is great news for those from more diverse backgrounds than the industry has previously tended to recruit from. It also provides a tangible way for Veterans to find jobs in technology as they look at transitioning into civilian life.
ServiceNow is one of many areas of tech currently experiencing tremendous growth; the company reported a 36% rise in revenue in its last full financial year, increasing from $1.9bn to $2.6bn. It's acquired other businesses in the process to make it even more powerful going into the years ahead. With many government organizations using the platform, it's also an area of work that is particularly accommodating to those who've completed military service.
If you're in the process of mapping out your next career move, here are our top five reasons why a job working with ServiceNow might be perfect for you:
Job security
The IT sector is one of the few industries that's pretty much recession-proof. Lots of businesses are looking at the current financial climate and bracing themselves for the future, but you can bet their digital teams will remain largely unaffected. Companies are spending more on their tech solutions, and this investment will increase regardless, as they simply can't afford to make mistakes when it comes to securing their digital information.
Organizations are moving their entire operations to the cloud in an attempt to lock down sensitive information and maximize productivity, making solutions such as ServiceNow ideal. It's a much more secure alternative to having your servers on-site, as well as a powerful service management solution that can serve several different industries.
The implications of data breaches are daunting, meaning spending on security is an essential part of doing business. Protecting customers' personal information is even more important than a company's physical property now, and that requires skilled workers who can combat the threat of cybercrime. A job in tech is one of the most futureproof careers on the planet—choosing a platform to specialize in that's on the rise is important, but don't worry too much about whether you've chosen the right technology to focus on. Cross-training is becoming more and more common as new stacks appear.
Entry requirements
It's easy to be put off a career in IT due to not having any formal training in the field. There's no doubt that working with technology is a skilled profession, but military life equips you with many transferable soft skills that employers find desirable. Technical knowledge can be learned, but the ability to think clearly and solve problems under pressure, for example, is much harder to teach.
At Nelson Frank, we surveyed nearly 1,000 professionals who work with ServiceNow to ask about their backgrounds, as well as discovering different trends affecting the ecosystem, including remuneration. We found that 26% hadn't studied at college level, so lacking a formal education isn't a stumbling block if you're looking to get into technology. If you've learned a specific skillset during your service, employers will acknowledge your ability to apply that to a new area of work.
Tech moves at such a rapid pace that constant re-training and upskilling is an essential part of the job anyway; in fact, 63% of employers paid for their employees' ServiceNow certifications in full to make sure they had the most up-to-date knowledge and skills. The demand for skilled professionals is such that employee education is a cornerstone of any firm's tech investment. A desire and ability to learn new skills is more important than already possessing that specific knowledge, which can be taught.
"It's a great opportunity for transitioning veterans," says Travis Toulson, who runs the Code Creative blog. "ServiceNow is in high demand and skills are valued over formal education and certification. This lends well to veterans' military experience, where rapidly learning and mastering new skills as needed for the mission is part of daily life.  'Improvise, adapt, and overcome' is every bit as relevant to excelling within the ServiceNow ecosystem."
ServiceNow training
As tech suffers such a shortage of skilled workers, many companies see the benefits that Veterans bring to their organization and find them incredibly desirable hires. Most people with military experience will have undergone some form of specialist training during service, often preparing them to work with a specific product or piece of technology.
That ability to harness information and put it into practical use is invaluable, and many tech giants are now providing dedicated pathways to work for Veterans. This usually involves either training them from scratch, or using their existing tech knowledge and cross-training them onto their desired platform. Our sister company Revolent offers one such program, which has had many successful Vet graduates who were looking for a change of career.
Once you're accepted into the academy, you'll be offered a 10-week certified ServiceNow course. Upon graduation you'll become a full-time employee with us, where we'll find you a paid position with one of the great companies we work with. We'll also offer ongoing career development and support during your placement, giving you the best possible launch pad for a career in ServiceNow.
That means you'll continue working as part of a team during the transitioning period, and you won't be on your own beyond that, either. "Best of all, there is a deep community of people working together and helping one another across all the organizations working with ServiceNow," added Travis. "The transition process can be a challenging one and developing a sense of camaraderie in the civilian environment can make a huge difference for veterans."
Security clearance
ServiceNow is a much-desired platform for various government organizations. As a result, there's a number of different businesses recruiting for ServiceNow professionals who require security clearance for those joining them. So if you're feeling daunted about entering an ecosystem that you're relatively new to, you can take reassurance that in terms of clearance, you may actually be ahead of some of your peers.
There are specific events where they are looking to recruit ServiceNow professionals with clearance, such as TECHEXPO. Check out our guide to ServiceNow events for further information on those upcoming dates.
Stay or go
Just because you've left the military doesn't mean you're finished traveling just yet. You may think that jobs in IT are restricted to Silicon Valley, but that's far from the truth. Tech is transforming the way businesses work around the world, resulting in jobs in every corner of the globe. More and more cities are transforming themselves into tech hubs, packed with professionals at many different stages of their career.
Not every employer is looking for a long-term hire, either—many are looking for contractors to come in and bolster their teams during implementation or upgrades, meaning you can continue to travel and see new parts of the world while earning a handsome salary in the process.
If you want to settle down and become a home-bird, then you may be encouraged to hear that a career in technology is also the perfect choice. Our Salary Survey revealed that 78% of respondents spent time working from home, with 29% being entirely remote-based. ServiceNow professionals also reported an average of 18 days PTO a year, a benefit that will give you time to explore if you do get itchy feet.
Regardless what you're looking for in your next vocation, there's a good chance that a career in tech will tick a number of boxes
Take the next step in your ServiceNow career
Browse our latest ServiceNow jobs.