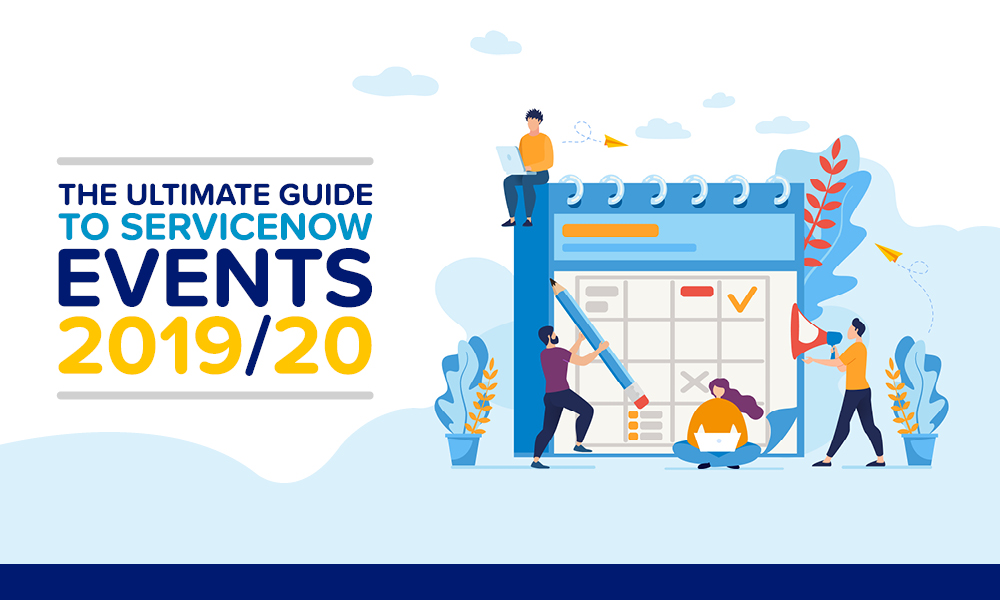 For any ServiceNow professional wanting to develop their career, attending industry events are an absolute must. You'll be able to learn more about the product, as well as mixing with colleagues and peers in order to network as well as finding out new ways of working and making sure you're getting the most out of your implementation.
You'll no doubt be stuck for time as it is, so to help you out we've compiled this handy list of the best events you can add to your calendar in the next 12 months. We've even sorted them by location, making it easy to jump straight to those most suitable for you.
We'll also be adding to this page as new events are announced, so keep checking in with us for new updates, and feel free to tweet @NelsonFrank if you know of any that we can add to it.


TECHEXPO
TechExpoUSA.com is one of the country's biggest producers of professional job fairs for those with an active Security-Clearance, with over a million attendees since their first in 1993. Their hiring events are used by leading defense contractors, technology companies, consulting firms and numerous agencies of the US Government. They are ideal both for experienced tech professionals as well as Transitioning Military and Veterans looking to enter the industry, but highly recommend either business attire or military attire for those attending. They're on the road throughout the year so you have plenty chance to see them—check the events page of their website in advance as some fairs require different levels of clearance.
Aug. 14 Herndon, VA
Aug. 15 Baltimore, MD
Sep. 18 Tysons Corner, VA
Sep. 19 Baltimore, MD
Oct. 16 Herndon, VA
Oct. 17 Baltimore, MD
Nov. 13 Tysons Corner, VA
Dec. 4 Herndon, VA
They have a big variety of employers at each event, so research who'll be there in advance and make a list of who you definitely want to see while you're there. Arrive as early as possible so you can make the most of your day and maximise the amount of interviewing time you have available. Rehearse a brief introduction to yourself (your professional skills, accomplishments and relevant experience) ahead of the event, and carry a number of copies of your resume to hand out.

Knowledge 2020
May 3 – 7
Perhaps one of the biggest events in any ServiceNow diary, from 2020 there's the exciting news that Knowledge is moving to Orlando. The four-day event is full of keynotes and different breakout sessions, making it the perfect place to explore the platform in even greater detail than you ever have before. Ideal for anyone who uses ServiceNow, either as an end user, customer or partner. The venue is yet to be announced, but Orlando International Airport is only a 20-minute drive from most convention centers in the city, so we're already looking forward to this exciting change!

Now at Work
ServiceNow will be taking their Now at Work events around the globe during Fall, showing how businesses are delivering modern digital workflows that can unlock productivity. If you're looking to try and transform your employee or customer experience, this is a chance to hear keynotes from ServiceNow leadership and their most innovative customers, as well as getting up close with them on the pavilion floor. A great opportunity both for networking, learning and engaging with the ServiceNow community.
US
Oct. 8 Toronto (Beanfield Centre)
Oct. 15 Dallas (Irving Convention Center)
Oct. 30 Chicago (McCormick Place)
Nov. 5 New York (Grand Hyatt)
Nov. 20 Washington DC (Ronald Reagan Building)
Europe
Oct. 1 Paris (Palais des congrès)
Oct. 15 Amsterdam (Johan Cruijff ArenA)
Oct. 16 – 17 London (ExCeL)
Oct. 30 Frankfurt (Congress Center Messe)
Asia Pacific
Oct. 15 – 16 Tokyo (The Prince Park Tower)
Nov. 13 – 14 Sydney (ICC)

SNUG
The ServiceNow User Group (SNUG) is an independent group run by volunteers, made up of ServiceNow customers and partners. They hold forums throughout the year, giving a chance for the community to come together and discuss the latest releases, and exchange hints and tips that will benefit your organization. It's an excellent chance to mingle with other ServiceNow experts and ensure you're getting the most out of the platform.
For US users, there are a number of events around the country that have been announced so far:
Aug. 6 Raleigh, NC (UNC Health Care)
Aug. 7 Austin, TX (The Brewtorium)
Aug. 8 St. Louis, MO (Mercy Technology Services)
Aug. 13 Connecticut, CT (Yale University)
Aug. 14 Nashville, TN (HCA Healthcare)
Aug. 15 San Antonio, TX (Capital Group)
In Europe, the following meetups are scheduled:
Sep. 4 Gothenburg, Sweden (Convendum Göteborg City)
Sep. 16 Stockholm, Sweden (location tbc)
Sep. 18 Birmingham, UK (Edgbaston Cricket Ground)

ServiceNow Developers Meetup
Unsurprisingly from the title, these events are perfect for ServiceNow Developers. Usually (but not always) held on an evening, they are free to attend and will cover a couple of different topics, as well as providing a chance to network with local peers. They are held around the world, with speakers and subjects still being finalised, so check through the events listings closer to the time for specifics. Current confirmed dates:
Jul. 31 Singapore
Aug. 13 Copenhagen
Aug. 15 San Antonio
Aug. 16 Auckland
Aug. 16 Toronto
Aug. 22 Nashville
Sep. 12 Minneapolis
Sep. 24 Munich
Looking to take the next step in your ServiceNow career?
Upload your resume and let our recruitment experts find your perfect role.