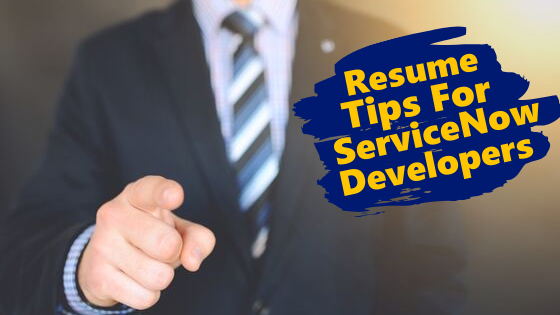 The technology industry has a higher turnover rate than any other job sector in the world, and those working with ServiceNow are no different. Companies stand still, others invest in new stacks that appeal to ambitious professionals, and the temptation to brush up your resume and start looking elsewhere quickly turns into hitting "send" on a few tentative emails.
ServiceNow is a growing technology, offering fantastic opportunities to professionals looking to move on. If you want to stand a chance of landing your dream job or make the next significant step in your career, it's worth making sure you have a few fundamentals in place first.
Here's some of our top tips when putting together your resume for that great ServiceNow Developer role you've just seen.
Skills
This section should appear pretty high up on your resume, it's headline-grabbing information that summarises you as a potential candidate. Essentially, it's a list of what you're technically proficient in, as well as how many years experience you have of each component. Although it'll mostly contain jargon, don't abbreviate anything—you don't want to miss out on any automated searches.
Remember to keep this section brief. It just needs to be a list of the areas you're proficient in and how many years you've spent working with them. Occasionally, a busy hiring manager will use this section to immediately rule you in or out of the interview stage, so matching your skillset to what they're looking for is the sole purpose of this section. You may think you've included everything that an employer could possibly want, but it pays to have a look through the job description to be doubly safe. They might want a specific amount of experience with, say, API Integrations, which rules you in or out. Similarly, there may be something you'd completely forgotten about or thought was irrelevant, just because you don't use it in your current role.
A job ad is your best friend during any application. You may not be able to gauge whether or not you'll be a good fit culturally, but when you're given a list of requirements by an employer it's a basic mistake to omit something that could get you in front of a hiring manager. Make sure that any specific technical skills you possess that are mentioned on the ad, are also included on your resume.

Experience
A desirable trait for a ServiceNow Developer will be the ability to write clearly structured sentences explaining the business outcome of specific applications/modules you have built, as well as why and how they were implemented. While your immediate priority is showcasing your technical skills, be aware that written communication will be something an employer is looking for, and this is a great place to demonstrate this. Nobody's looking for War and Peace, but an ability to clearly and concisely summarise your experience is a great way to show off this skillset.
Outline projects you've been involved with and look to show off things outside of the usual skillset for a Developer. For instance, if you've taken the lead on a project then it points towards desirable traits for a company who are keen on developing their staff and see long-term value in their hires. If you've led workshops, then that's usually the sort of thing that a Project Manager or Analyst will do, but gives a hiring manager confidence that you could be put in front of a client face-to-face. It's not a common trait within the tech community, so it's incredibly desirable and will make your resume stand out.
It's also essential to focus on the verticals you've been involved in, if you don't wish to name the companies you've worked with. Was your previous ServiceNow role within HR? Then it needs to be in there; if the hiring company has specific requirements that it wants to achieve from its stack, then your experience really comes into play. It'll really make you stand out, particularly if it's outside of ITSM. More and more organizations are seeing the benefit ServiceNow has to the wider business, so if you've experience of implementing it beyond just ITSM, be detailed and talk about how you used it. Partners and enterprises are now looking for expertise beyond just ITSM; if you have ITOM, ITBM, SecOps, HR or GRC, make sure you talk about it!
Another often overlooked aspect here are the direct benefits that you brought to the business as a result. Look at the modules you have experience in and detail the projects you were part of. If you made something leaner or meaner, increased revenue, saved money or improved service levels, then you should always include the direct results. Someone who's hiring a ServiceNow Developer will be doing it within the wider remit of how it impacts the company, so presenting yourself as someone with acumen for business outcomes is appealing.
This section is also useful to map your career progression. If you've moved around companies frequently, a recruiter may worry that you're unlikely to stay in the long-term. If you can present a history that isn't just bouncing around looking for a pay rise every couple of years, then they'll look at you as someone with ambition to progress and look at ways they can support this.
Education
Having a degree isn't essential to landing the job—a resume packed full of experience and certifications will cover it—but most employers are looking at your education. They want to see that you've studied and can apply yourself to learning. After all, ServiceNow is a platform with constant new releases, so a resume without any study on it will jump out for all the wrong reasons. Include any IT-related qualifications; your education doesn't need to be 100% aligned to your career but again, it's desirable.
As for ServiceNow, be sure to include your certifications, and whether they're current for the latest release. The platform is updated so frequently that there isn't room for embellishment here, so keep it honest. If you're going through the certification program, you're showcasing a willingness to invest time in your professional development, so employers will be just as interested in the breadth of your qualifications as they will how up to date they are.
Our most recent Nelson Frank Salary Survey revealed that 63% of employers paid for their workforce's certifications in full, so even if yours aren't for the current release, being able to demonstrate a track record of your desire to gain them may end up with further investment in your future as part of your new job.

Check, check and check again
It may sound simple, but take your time before finally hitting send. Go through the entire document forensically for any spelling or grammar errors. They might not directly stop you from getting through to an interview, but it leaves a bad impression on whoever is sorting through resumes. Let's be honest – being unable to spell where you got your degree won't stop you getting a job, but it looks sloppy and will leave an interviewer with serious reservations about your attention to detail.
Finally, make sure everything is clear. Do your roles and experience make sense? Is it relevant to this specific role? Are the certs you've mentioned up to date, do they refer to the current release? If something's unclear, an employer won't call you for clarification, they'll simply move you to the "no" pile.
It's such a simple mistake, but the number of error-ridden resumes that land in hiring managers' inboxes is one of their biggest bugbears on a day-to-day basis. Even if you're unsure how your application will compare against your peers, leaving a good first impression will give you a great head start!
Still in doubt? Ask the experts
If you're still unsure of what needs to go where, or how to best appeal to potential employers, why not seek out a recruiter? Sure, that might seem like obvious advice from us, but our consultants work closely with companies and know what they find desirable. They'll be able to speak with you, find out your skills and experience, and present your resume in a way that is guaranteed to get it under employers' noses.
Find your dream role within 48 hours
Upload your resume and we'll take the hassle out of finding your next great job.