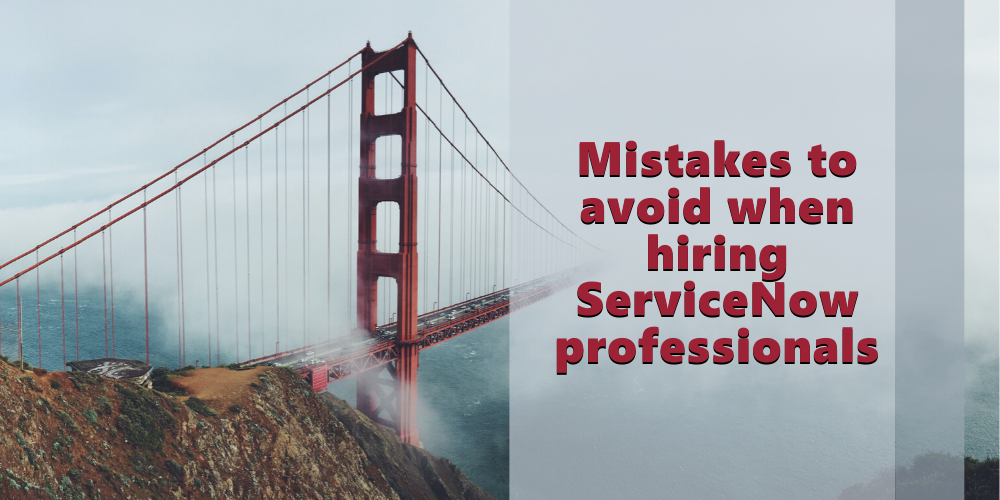 Talented ServiceNow professionals are some of the most in-demand on the tech talent market, which means that when it comes to making your new hire, you can't afford to slip up.
It can be a costly and time-consuming process, and having to go through it again because of simple mistakes is one of the most infuriating things for any employer.
We asked Dino Landi-Scarpato, one of our Senior Recruitment Consultants who works with ServiceNow talent, for the most common mistakes he sees when companies are looking to make their next hire.
Flexibility
This is probably the biggest thing that employers are doing wrong when trying to attract ServiceNow talent. This is such a small ecosystem that there just isn't a vast well to be drawing candidates from, which means everything you do should be taken into even greater account.
For example, flexibility is one of the biggest weapons we have when selling your company to a passive candidate. As the market is so Partner-driven, these professionals move between those Partners and know what's on offer and what they can expect. If it comes to someone outside of that environment trying to attract someone for their ServiceNow project, they have to be willing to accommodate them.
For instance, in the public sector, a lot of places will often have a blanket rule where they want someone on site five days a week. If your competitors are letting these guys spend some, or even all, of their working week remotely, then you could be waiting months and months trying to get someone in. Offering that same benefit also applies if you're not in a great location for the person you're hoping to hire.
Those holding out for someone willing to be based on site permanently are the ones missing out on the extraordinary candidates. Senior ServiceNow professionals aren't constantly available, so if you want to stand a chance of landing them then you need to be prepared to offer some flexibility when it comes to the way they work.

You can't cut costs
Another common mistake we see with companies is when it comes to salary negotiations. You've found the perfect candidate, they gave a great interview and you're convinced it'll be the perfect fit, so you decide to play hardball with them and offer below the market average in order to save a bit of money.
What's often overlooked is that a good candidate is in demand and can find another position that will pay much more than you. So they aren't playing the game with you, they're simply holding out for what they're worth. Before you know it, you're struggling to attract anyone for the role, your project is understaffed or behind schedule and not only do you have to relent, you may have to pay more than you originally wanted to in order to attract a professional quickly.
You may even need to hire an expensive contractor to help clear the backlog, and all of a sudden what you thought might be a nice cheap hire has resulted in the costs spiralling massively. You need to accept that ServiceNow professionals are in huge demand, and hiring new talent costs money. Be aware that for every candidate you think you can offer below market value, there'll be someone else looking for the same talent that is prepared to pay the market rate.
In short: don't shy away from salary, as someone with serious ServiceNow know-how costs money. Going backwards and forwards to your finance department to try and increase your hiring budget wastes time, which in turn puts you further down the queue when genuine talent becomes available. Resources such as our Salary Survey will provide you with valuable insight into the market rates of the professionals you're hoping to recruit. Offering less than that will result in getting someone less-skilled, or missing out completely.
Selling your project
The balance of power is no longer with employers when it comes to ServiceNow talent, so you need to be doing more than providing a basic job spec if you want to attract quality applicants. Share as much of your road map as you can during the recruitment process – get candidates excited about the opportunities you can offer them. They can move to another Partner very easily to earn the same salary, so that's not enough to attract premium talent.
As they're in such demand and can easily move around the ecosystem, ServiceNow professionals want a challenge that stands out. Detail the project that you have and offer some insight; the positives of it and why it should appeal to job seekers. A bland job ad will appeal to those simply looking for another job, rather than hungry candidates seeking their next great challenge.
It's easy to forget the fact that you're fighting a lot of people for that same pool of talent. So a job ad that focuses solely on your company, and the technical requirements you want from a candidate, isn't going to pull in the maximum amount of applicants.
The platform is shifting towards ITOM, which is exciting a lot of the professionals that we deal with. Desirable candidates want to be getting their hands on the latest innovations and advances in the stack and get experience with it so they're as close to the forefront of ServiceNow as possible. If your project is looking to incorporate new uses beyond traditional ITSM, then make sure you're selling it to potential candidates, rather than inadvertently turning them off.
Focus on retention
This may sound counter-intuitive as a recruiter, but it really is the most effective way to build any great ServiceNow team. When you compare the price of hiring new staff versus how much it costs to keep talented professionals in your building, it's a no brainer.
Our Nelson Frank Salary Survey will give you some great insights into what keeps people happy. Whether that's investing in certifications or looking at the benefits you have on offer, it's an undiluted look at what keeps those in the ecosystem ticking.
You can't avoid people leaving, as they will eventually move on in order to pursue a new challenge, higher remuneration or for any other number of reasons that force people into seeking alternative employment. But making sure you're doing your best to keep those talented professionals within your walls is an underrated and often forgotten element of any effective recruitment strategy.
Don't leave benefits as something your employees can find out about if they dig deeply enough – you should be selling them throughout the hiring process so that people want to work for you. Because when someone has that attitude before they sign up, they stay engaged much longer.
Want to know more about the ServiceNow ecosystem?
The Nelson Frank Salary Survey provides a unique insight into the community, from platform trends to remuneration. Complete the form below and receive your PDF report in seconds.