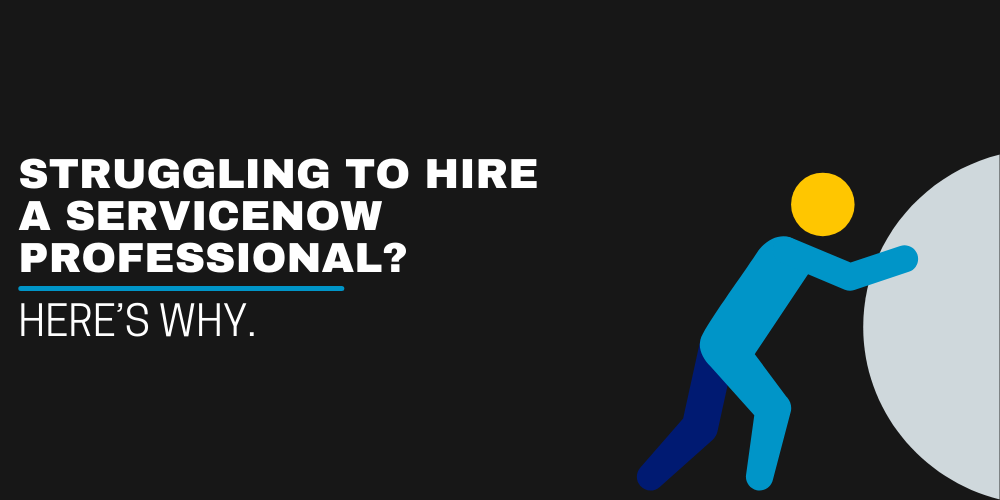 Have you been searching high and low for the optimal ServiceNow candidate, but coming up short on your expectations?
Hiring a ServiceNow professional is harder than it may seem. With the competition in today's market, combined with the talent gap and high expectations, your pool of potential candidates grows smaller and smaller. When combined with the necessary soft-skills, you may find that your selection is quite slim, or nonexistent. That's what we're hoping to help you fix.
A hiring manager must take a few things into account when looking for ServiceNow professionals; ServiceNow is a relatively new technology, some of your candidates may have fewer than 10 years of experience, some of their salary expectations may be higher than you are anticipating, and still some of them may have talents and skills you're over-looking because they might not seem relevant at the time.
ServiceNow CEO John Donahoe says that he believes talent is the key to growing a successful company. As he is eyeing the $10 billion mark, the crucial element is talent. "When you're in a professional services firm, talent's all you have. I have a real focus on that and that's always been important to me…And the good news is we have great talent – we just have got to continue to grow and grow the company. We're growing at a breakneck pace." He goes on to describe that his company will need to recruit talented candidates with different skillsets, saying:
"We have a goal to be a $4 billion business by 2020, on our way to being a $10 billion business. The way I think about it is, what is required to be a $4 billion company? What kind of leadership? What kind of skillsets? What kind of requirements? One is we need to do everything we can to develop the talent we have today. We have wonderful talent, but our leadership needs are going to be extraordinary going forward. We have to invest in our top talent today and do everything we can to grow and develop them. Two, we're going to have to continue to recruit, and recruit effectively. We will need to recruit different types of skills, the breadth of skills that'll be necessary to be a $10 billion business."
So, how can you find your perfect ServiceNow candidates? What might be holding-back your search? We have found that there are 3 key elements that might hinder a hiring manager's search: Talent Gap, Salary, Competition.
Talent gap
Innovation can mean many things, including hiring or cultivating new talent, especially in a tech business. In last year's Gartner CIO Survey, 66% of CIOs reported that they felt talent was "scarce and almost to crisis proportions." Without the ability to recruit new or keep your innovators, then your company could be in crisis mode as well.
This fact couldn't be more relevant in the ServiceNow market- the product has been so successful so quickly that it has naturally left a huge lack of talent in a hyper-growth marketplace. This has left many partners trying to grow their business and but finding no resources to do so. It has also left end users with the problem of finding specialists to develop and administrate the platform they have spent millions of dollars to get.
The market effect of this has meant the price of ServiceNow talent has dramatically increased, and a lot of time spent trying to find talent that is likely to be speaking to multiple competitors.
How to improve your recruitment methods
Take time to understand the market and exactly what you need
Knowing what you need will assist you in writing up a job description for the exact type of professional you require. Not only will this help you to really understand your needs, but it will help potential candidates to find your job opening and know if they're the right fit to apply.
Change up interview structures
Ask your candidates some situational interview questions; how they have navigated working with a difficult team, or how they have handled working with clients. This way you can see how they think about a situation, and reduce the potential of making a bad hire.
Evaluate the best methods to recruit ServiceNow candidates
Social media can be a good tool for recruitment but tends to leave a lot lacking. You can't properly vet a candidate with social; you can get references, but beyond this, you're relying on their resume.
Be quick, decisive & offer market rate
Now that you know what you need in a candidate when one comes along be quick about offering them the position at a decent market rate because they're likely interviewing with several other companies.
Be flexible on requirements
ServiceNow has been so successful so quickly that it has naturally left limited talent in the marketplace. Take a look at what skills your candidates do have; perhaps their certifications and expertise in another platform or technology could be relevant in this new position.
Use a specialist ServiceNow recruitment consultant
A Nelson Frank specialist recruitment consultant will know what's what in the industry and be able to vet candidates who have the latest knowledge. Plus, a good recruiter will have leads all across the country and know what it will take to get that candidate onboard. Not to mention if you post a ServiceNow job, you're likely to get plenty of applicants. But a recruiter is armed with candidates; people who are ready to improve their career with the right move.
Salary
Yes — salary expectations for ServiceNow professionals can be high if you are not expecting it. But for good talent, you will want your budget to be at least in the ballpark. According to our recent placements, a junior ServiceNow functional consultant should be able to expect about $85k, whereas a senior ServiceNow functional consultant should come in around $132k. If you're hiring a ServiceNow Developer, expect to pay out around $142k for a senior-level candidate.
Simply put if you don't pay market rate, take advice and keep up with the times you will never hire or retain the talent you need. The market is so aggressively competitive for these specialists that you will just lose them to a competitor and create negativity in the market around your company. Even if you manage to save cost they will quickly become a headhunt target once they realize their true market value. A specialist can tell you if a candidate is inflating their salaries and of course you should never pay over market rate as you are just adding to the problem.
Competition
A marketplace with fewer suitable ServiceNow candidates means you'll have to be more competitive in your offerings. However, instead of heading into the trenches for bidding wars with financial perks, make your company enticing to someone with the culture and your business plan. Simply raising your pay grades is unlikely to help solve your problems of recruitment for top ServiceNow talent.  Trying to outbid a competitor for a ServiceNow candidate could put you at risk for high turnover, which is the opposite of what you need in this competitive market!
Share your company vision
Top ServiceNow talent is often enticed by a clear company vision, skills exposure, and a good work-life balance. For example, Land O'Lakes CIO Mike Macrie who is recruiting in the competitive area of Minnesota's twin cities explains how he motivates top candidates:
"We articulate an exciting vision for the company and for the IT organization. Many other companies cannot clearly articulate their vision for IT and seem to be more focused on using compensation as a motivator. Compensation may be a short-term motivator, but that employee is not likely to make a long-term commitment to the corporation. Recently, we've also been successful in hiring and retaining employees because of a $100 million program that's transforming our IT culture to one that is focused on our customers, both internal and external."
Offer training & development
Training can be a great employee benefit. A motivated employee will always want to learn more about their trade. This can also help your more junior-level employees find their footing within the company and be ready to take on management roles in the future. CIO spoke with Government officials on how they recruit and retain the top IT talent, and training was one of the top ways. U.S. CIO Tony Scott made training and identifying talent a priority at the CIO Council.
ServiceNow specialists love to learn as the platform is constantly changing — one of the top reasons why candidates join a company is the exposure they will get to the platform and further career opportunities. If you can articulate your plans for the platform and how exciting it will be for them, you are much more likely to get your new team member! Offering to support them through their certifications is also a massive positive at all levels.
How do you recruit and retain your top ServiceNow talent?
Are you successfully retaining and attracting top ServiceNow talent? If so, let us know what incentives your company offers in the comments below. What would your suggestions to other struggling organizations be? Alternatively, what sort of things are you struggling with in your search for great talent?
If you are still stuck in recruiting top ServiceNow talent at your company, we can help. We are constantly networking within the ServiceNow market, and because we focus exclusively on the product, we are able to understand both your needs and candidate skillsets far more effectively. Our expert consultants are also able to advise you on market trends and how to retain your best ServiceNow talent.
In addition to consultancy services, we offer Candidate Search, our database of over 6,000 ServiceNow candidates. Sort ServiceNow candidates by salary expectation, relocation preference, skills, industry sector, availability, and other factors to best suit your vacancy. You can also save shortlists of your searches and receive email alerts when new candidates match your criteria.