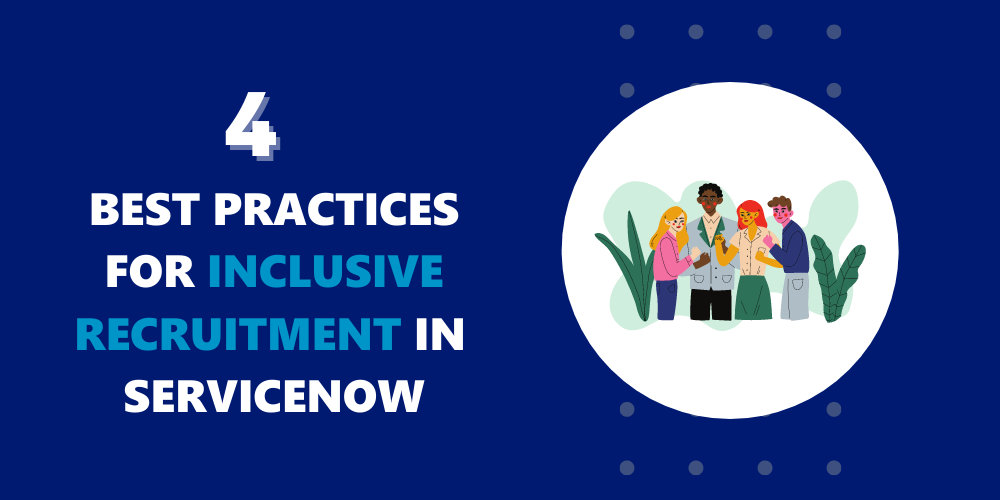 Workplace equality has finally been taken off the back-burner of most organizations as diversity and inclusion have become top priorities for many employers worldwide.
There's never been a better time for companies to look at their D&I policies to ensure they offer an environment in which everyone is given equal opportunities and are moving toward the goal of truly empowering people to be their best selves.
Naturally, the ServiceNow ecosystem is no exception. It's no secret that the tech industry is lacking skilled professionals, especially as businesses start (or continue) their digital transformation. There's more demand than ever, but not enough trained professionals to meet the needs of the world right now. Diversifying teams can address the talent shortage and help the industry increase its talent pool, while also creating stronger companies. With studies showing that diverse companies tend to perform better than their less diverse peers, championing inclusion is crucial for good business; an essential part of achieving business-wide diversity is your recruitment process.
So, whether you're wiping the dust off your D&I policy, or want to improve what you've been working on already, here are some best practices for truly inclusive recruitment.
Write an inclusive job description
Writing an inclusive job description is the first step towards attracting diverse talent, as well as projecting yourself as a company that advocates workplace equality. First, use gender-neutral pronouns. Avoid using gender pronouns such as he, she in favor of more inclusive alternatives, like you or they, or words such as "the candidate". This way, you'll avoid giving off any impression that your candidate should be of any particular gender.
While that is a good starting point, there are other things to factor in to attract a diverse set of applicants when writing an inclusive job description. A study conducted by augmented writing platform Textio showed that the words used in a vacancy post oftentimes predict the gender you hire. Unsurprisingly, the inclusion of certain words that are viewed as masculine seem to deter women. Further studies show that masculine-oriented words like "ninja", or "rockstar", and even "competitive" or "driven" tend to put women, as well as those who feel they might not fit in to an aggressive, masculine environment, from applying—causing you to miss out on great talent from diverse backgrounds.
Conduct an inclusive interview
From having a diverse mix of interviewers on the panel to reviewing the questions you ask and shifting your requirements focus, there's a lot employers can do to make their interviewing process as bias-free as possible.
If you want to attract a more diverse range of people, you need to bear in mind diverse needs. For instance, changing the interview date last-minute might not have serious implications for a young, single applicant who perhaps lives closer to the interview location. However, this might weigh heavy on an interviewee who would struggle to re-arrange childcare unexpectedly. Make sure the logistics for the interview are communicated clearly with your candidates, and unless absolutely necessary, stick to the plan.
During the interview, keep the questions you ask related to the competencies required for the role. Focus on situational questions on events that might arise on the job. That, together with a hands-on task or assignment can truly assess the qualities of the person in front of you, helping eliminate the unconscious bias that usually characterize personality-focused interviews.
Educate your team and adapt company culture
Educating your existing team is crucial for inclusive recruitment—and this must start from the top. Having diverse leadership means having different views and experiences, which has a massive impact on the decisions taken by that same leadership. It'll also be a great example to set to help create diverse teams at all levels of the organization. Focus groups, consistent training and open discussion help organizations to turn diversity and inclusion into more just buzzwords.
Ask for regular feedback, and listen
Despite all your efforts, there may be moments in which you get it wrong. The best way you can see these blind spots is to gain feedback on them. Whether that's direct via questionnaires or surveys, or indirect, such as analyzing how diverse applicants and employees progressing through the company might be, an integral part of the feedback process is acting proactively on the comments you receive.
There are also several resources out there which can give you a better insight into what diversity and inclusion really mean within the ServiceNow industry, such as our Nelson Frank Careers and Hiring Guide: ServiceNow Edition 21/22, that's launching really soon. In this free report, you'll find an overview of what the ServiceNow ecosystem looks like in terms of D&I, including any benefits and incentives being offered to professionals to enable flexible working, which goes hand in hand with inclusivity, and which is helping build a better, fairer industry for all.
Need to find ServiceNow talent fast?
Upload your job with us, and within 48 hours you'll receive a list of available candidates suited to the role.