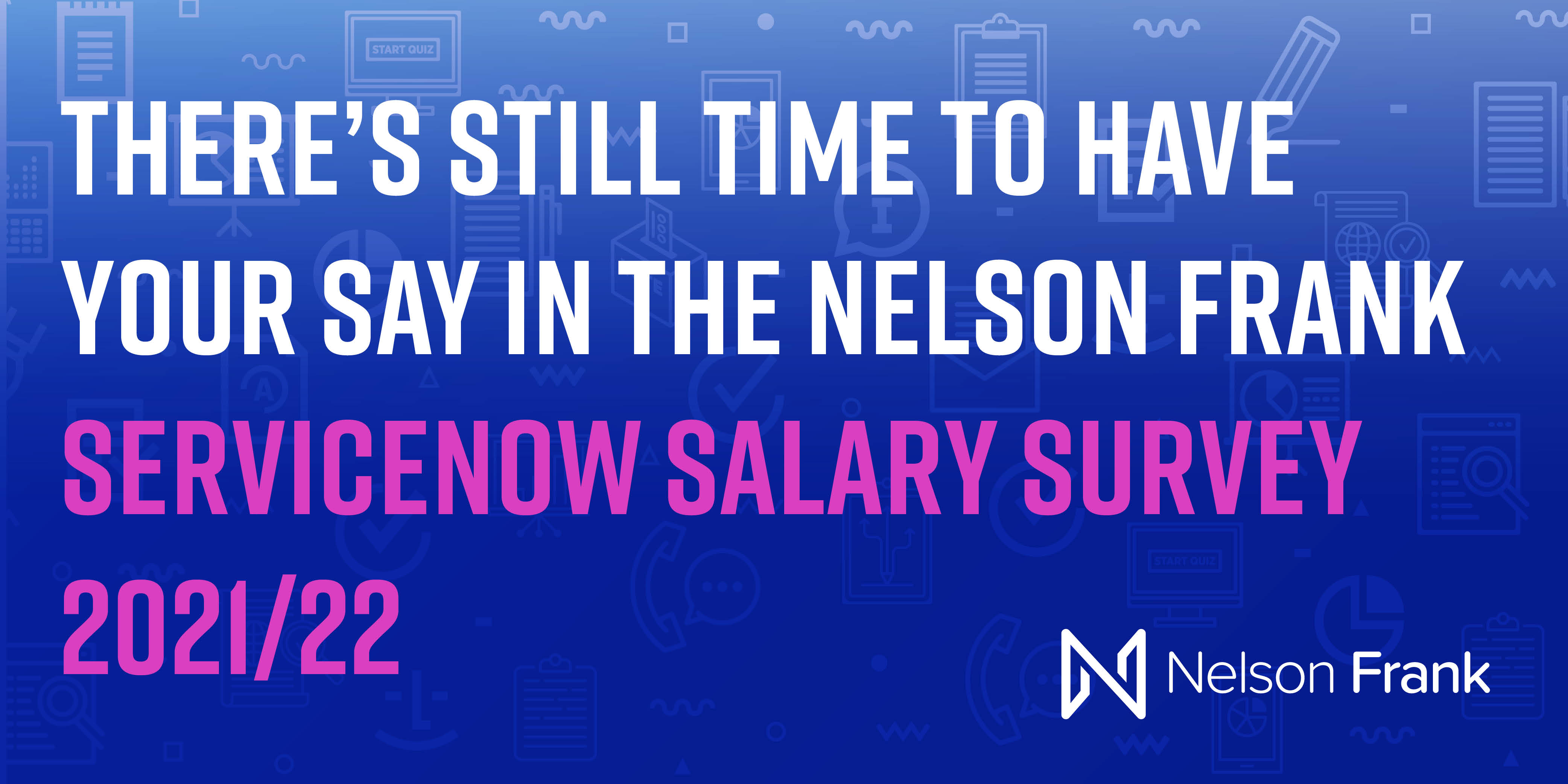 As 2020 draws to a close, it feels more important than ever to take stock of where we're at, and the ServiceNow community is no different. The platform itself has gone from strength to strength during the pandemic—playing a large part in recovery efforts, and helping businesses of all sizes around the planet as they begin to prioritize their digital infrastructure.
That means the number of opportunities for talented ServiceNow professionals looks set to increase over the next 12 months, making it vital for those working within the ecosystem to have an accurate snapshot of the platform and where it's headed. The Nelson Frank ServiceNow Salary Survey is the biggest independent study of ServiceNow professionals anywhere in the world, and as we continue putting next year's edition together, we want to hear your thoughts.
The report allows employers to see what they need to be doing to keep professionals happy, as well as helping you determine your market value as a professional. We're expecting a number of dramatic changes in several areas, making it crucial that you have your say to make sure the ecosystem is fairly represented.
Remote work
This year has seen discussions around the future of work fast-forwarded at lightspeed. Hypothetical debates between business leaders about virtual offices have been forced into reality, and it's unlikely that any of us will return to the same working patterns we had before. Indeed, last year's survey revealed that 24% of professionals that worked with ServiceNow had zero access to remote work, with a quarter only working one day per week outside of the office.
It'll certainly be interesting to see how this changes as the dust settles on 2020. People around the world have been able to enjoy the better work-life balance that remote working is able to accommodate, so it's likely that this area of the survey will see some of the biggest changes. Employers who want to get the edge when it comes to finding talent are already putting their remote work policies in place going forward.
For the small percentage not used to remote working, this section will provide employers with valuable insight into how to apply it on a practical level.
Certifications
Last year 69% of survey respondents said that they held at least one certification. Has that changed? Working from home has cut out the commute and given people several more hours in their week to focus on themselves. Some have enjoyed lie ins and extra family time, whereas others have seen it as an opportunity to study. Many have spent the duration of their furlough period trying to develop themselves, ready to take advantage of the opportunities that will inevitably arise from businesses advancing their digital infrastructure.
It's important to be able to assess whether these anecdotal reports from candidates are actually reflected in reality. It helps professionals know how they stack up against against their peers—especially when it comes to pay increases, promotions or a job search—as well as giving pointers about the qualifications they should be starting with, but it also allows employers to know how highly valued certifications are and make a decision on supporting staff by contributing towards the cost.
As more ServiceNow professionals emerge from 2020 with new certifications, it'll be fascinating to see the importance employers place on these when looking at potential new candidates, and how they back that up by funding this study.
Job satisfaction
Tech professionals aren't the only people who read the survey. Employers use it as a valuable tool in salary benchmarking, and with opportunities to express what makes professionals unsatisfied in their roles, it can also provide useful insight for leaders to try and improve working culture in order to improve retention.
Again, the pandemic is likely to provide thought-provoking insight into what makes people tick in a remote environment, which is perhaps even more important as employees aren't the only ones trying to navigate unchartered territory at the moment. In last year's survey, overall job satisfaction was 74% —will increased opportunities to work from home and the improvement that it can make to work-life balance see that increase, or will a lack of personal interaction actually lead to people feeling less engaged?
Not many employers with ServiceNow staff are used to fully remote teams, so gauging employee satisfaction at this moment in time will provide invaluable insight as it looks to become the norm. This is a fantastic chance to re-write our day-to-day working lives, and this is your opportunity to make sure your voice is heard.
No matter what stage you're at in your ServiceNow career, we'd love to hear from you. This year's survey is open now, ahead of launch in May 2021. To say thanks, every participant to the survey will be entered into a prize draw to win a $200 Amazon gift card, which isn't a bad reward for ten minutes of your time.
Take the survey now!
One participant will win a $200 Amazon gift card.