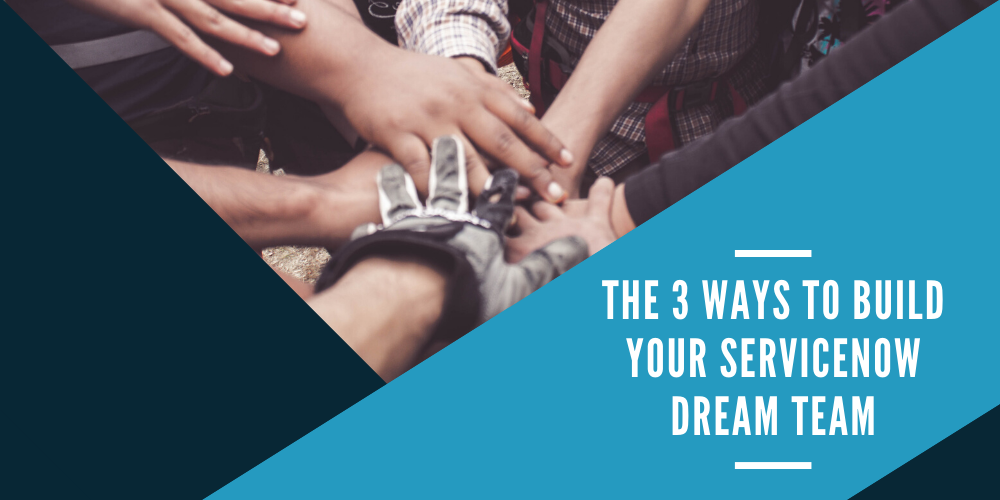 ServiceNow's wide-ranging capabilities are making it an essential piece of business software. In fact, the only drawback can be finding the talent to staff your project as it becomes a pivotal part of day-to-day operations.
Whether you're looking to expand its uses within your organization, or have recently decided that you want to go ahead and implement it in your business, a key consideration will be finding those individuals who can truly add value.
No matter how big or small your business, any implementation can cause hiccups and throw up unexpected problems. And that's when the confidence of having a fully skilled team steadying your ship is invaluable.
Here are the main three ways to attract ServiceNow talent into your organization—as well as the positives and negatives behind each method.
Find them yourself
Sorry, did that sound a little aggressive? Obviously as a recruiter, that's never going to be a suggestion we'd readily make! It's the oldest way of finding professionals, and it's likely the cheapest, but it's also the most time-consuming, which consequently eats into your resources.
Think about it: once you've identified exactly what it is you need, you'll have to write your own job ads, then place them onto various job boards. You could try and source your own candidates by looking through networks such as LinkedIn, but you'll also still need to verify that they can do what they say they can, as well as carrying out interviews.
All of these tasks are a huge drain on your time, which subsequently costs money, and we've not included the admin involved in arranging and conducting interviews, or negotiating salaries once any offers have gone out. Going it alone may seem like a great way to save money, but it quickly adds up to a huge investment of your working week.

Use a recruiter
Okay, you weren't surprised at this suggestion, were you? But the likelihood is that if you're looking for ServiceNow talent to add to your team, you don't have the luxury of time. If your car broke down, you could probably figure out what you needed eventually, learn how to fix it yourself, then go buy the parts and give it a try. But the likelihood is that you'd take it to a garage and pay someone to sort it out for you, isn't it?
It's the same with recruiters. Why drop everything in your day-to-day role in order to try and fill the position yourself? It's unlikely that you have the time to cancel your own workload to write job ads, sift through resumes then carry out days of interviews. Surely it would make sense to pay someone to do this for you, especially if they're a specialist in the market you're trying to hire from?
We have one of the largest databases of available ServiceNow professionals on the planet, and as we recruit only for ServiceNow, that puts us at the forefront when it comes to hiring that talent. Rather than taking the risk by hiring someone yourself, the candidates we place are already vetted so you can be assured of their quality.
Upskilling existing staff
Of course, this is a longer-term solution, so totally depends on the time pressures you're facing, but investing in your existing tech team to cross-train into ServiceNow is one way to go. It's a cost-effective solution, although they may expect certifications to be paid for, which in turn makes them more sought-after as professionals.
However, cross-training will ensure the new member of your ServiceNow project knows how your organization works and gets your company and the industry it works in. The likelihood is that they're already a great culture fit, which can be the hardest part of any hiring process—hard skills are quantifiable, whereas a desire to learn and improve, is harder to identify while recruiting for a new hire.
Cross-training someone will mean their current workload is reduced, and while they get to grips with the new stack, you'll still be short of resource for your ServiceNow project, but if you can cope with that, then it's an entirely workable solution. Just make sure you know what ServiceNow professionals expect from their employers, to make sure the benefits and salary that they receive matches that of their peers.
You can either contribute towards self-learning, bring in an external training company or invest in highly knowledgeable ServiceNow experts who can come into your workplace to carry out workshops. Whichever way you choose, it's important to remember that upskilling is a long term option, as you're getting the equivalent of a junior hire to start out with. It's why choosing someone with the right soft skills is essential if you're going down this route.
Save time and money (case study)
It's easy to see the initial cost saving to be made by going through the hiring process yourself, but no matter the size of your business or your tech team, the truth is that it's just not that simple. "One of the best examples of this was a small enterprise customer," says Nelson Frank consultant Dino Landi-Scarpato. "They got in touch with us after a spot on their ServiceNow team had proven almost impossible to fill."
"They'd had one candidate join them, then leave after a month, and had to begin the process again from the beginning. They were also negotiating salaries and seeing their top prospects repeatedly turn them down." The customer spoke with Nelson Frank, as the deadline they'd originally set to adopt ServiceNow across the business was too close to have an incomplete team trying to drive the process.
"We had a frank discussion about their budget, and realised they simply weren't matching what other enterprise employers were. They were trying to save money that they were in a position to spend, but missing out on professionals that would have had a real impact."
Not only that, but they'd already made one bad hire due to a bad culture fit. "When your day-to-day role involves dealing with ServiceNow professionals of varying levels of skill and experience, you get to know the ecosystem and those working within it. As soon as this company got in touch, I knew of half a dozen candidates who'd be perfect."
Within one week of contacting Nelson Frank, the customer had a ServiceNow Developer sat at a desk, playing a vital part in the project's success at that organization. While the cost involved in using a recruiter was bigger, they were able to speed up a process that had already taken the customer a considerable amount of time, and had wasted money as a result. Within three months they had contacted Nelson Frank directly to take charge of their next hire, to avoid making the same mistake again.
Upload your job now.
And within 48 hours, you'll receive a list of suitable and highly skilled ServiceNow professionals.