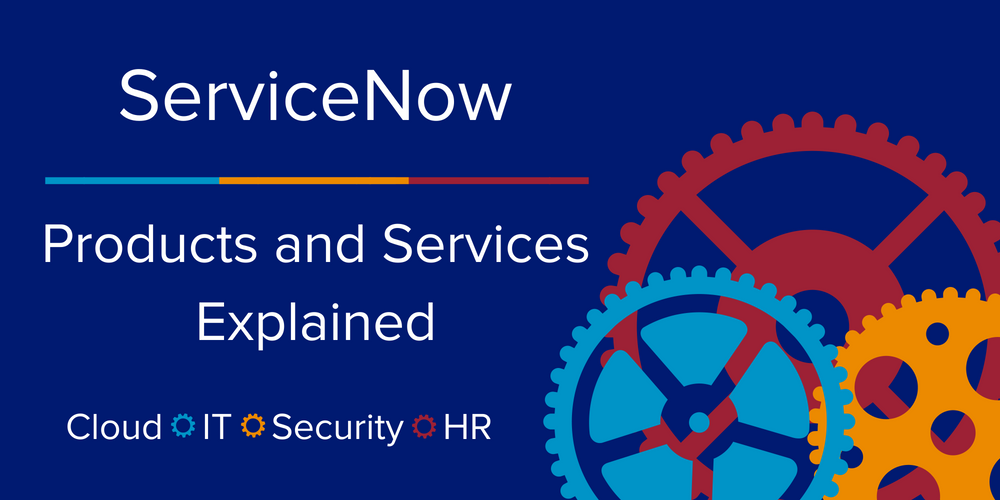 If you need a way to bring all of your IT solutions under one exceptionally capable umbrella solution, the robust suite of ServiceNow products and web services includes everything that your business could ever need.
ServiceNow web services use a cloud-based system, so anyone in your company can access the platform at any time, wherever they may be. A big part of how ServiceNow works is due to the fact that it is a native system, so you can be creative and customize it in any way that you need. What's more, there are a number of different apps, products, and services, so you can create the exact ServiceNow platform that you require for your business.
What does ServiceNow do?

Put simply, ServiceNow is a provider of specific IT solutions. It allows you to manage projects and workflow, take on essential HR functions, and streamline your customer interaction and customer service. It does all of this thanks to a comprehensive set of ServiceNow web services, as well as various plug-ins and apps.
The three central offerings of ServiceNow are IT service management (ITSM), IT business management (ITBM), and IT operations management (ITOM). ServiceNow started life as a platform that solely provided IT solutions, with the capability to manage business processes arriving later on. The ServiceNow store provides a range of apps that allows for increased business management opportunities in particular, but it's a little-known fact that some of the earliest instances of ServiceNow included several ITBM systems to cater to team hobbies and staff morale. For example, there was an instance created to order company lunches using the Service Request Catalog, a Project Management tool used to coordinate a wedding, and even an instance to manage the brewing of beer.
These may seem like frivolous examples, and it's true that they certainly don't do much to further the idea of providing better customer service or improving the ease of workflow. What these examples do show though, is just how ServiceNow works, and how versatile ServiceNow products can be when applied properly and with thought.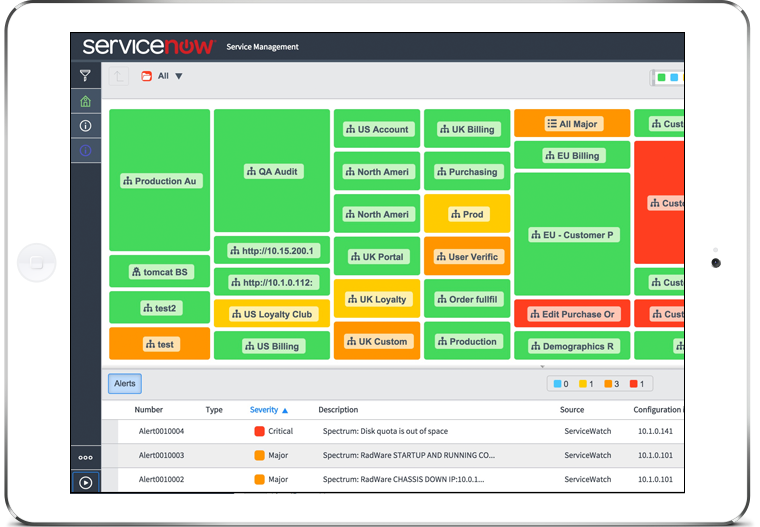 The ServiceNow dashboard on iPad view – image courtesy of ServiceNow
Claudia Couzi, Head of Service Integration & Management at AC3, has seen the company's use of ServiceNow grow over the years: "When we first started our ServiceNow journey, it was as a user ourselves. We wanted to build our own internal capabilities and immerse ourselves and our procedures into the ITSM platform. We are now an advanced user, and have leveraged our experience to become a ServiceNow Partner.
"The ServiceNow ITSM platform is central to so many of our processes at AC3. We started relatively small, using ServiceNow as the tool for our Incident, Problem, Service Requests and Change Requests, but we've seen ServiceNow become embedded in other parts of our business as it seemed the natural solution to other challenges.
"One example is our intranet, Ask ACE, which is built on the self-service portal allowing for information sharing and workflow management. Our original scope of work was to build and implement digital forms for their IT team, but once our customer realised the opportunity and benefits of the tool, the scope expanded to other business units.
"The key advantage for this customer was the transparency. We were able to use ServiceNow to develop a customised platform that enabled an integrated IT Service and Business Service catalogue that provides a consistent customer experience across the business, end-to-end visibility of requests and reduces complexity with a rules-based workflow engine. It was a real win across the entire business for this customer."
How does ServiceNow work?

As we've touched upon already, how ServiceNow works is by allowing those who buy the license to create what the platform calls a 'service model'. As the theory goes, this service model enables users to use self-service solutions to correct the causes of service issues and deal with daily demands.
The various tasks, processes and activities that make up effective ServiceNow usage all take place on the cloud. Not only does this promote ease of use across teams, offices and even countries, but it also allows for real-time communication, resource and workflow sharing, and collaboration when you need it. These are all vital services, and thanks to ServiceNow's strong focus on easy integration, you can combine it with other tools effortlessly. For example, the ServiceNow app store includes a huge number of tools for download that have been created by third parties. As well as this broad and comprehensive range of independently developed additions, ServiceNow can also be linked with other systems, such as VMware Airwatch for example, to complete tasks stemming from either program using the ServiceNow interface.
ServiceNow releases new instances around twice a year, offering increased functionality and improvements across key services with each release. The latest version of ServiceNow, Kingston, was released early in 2018, and the next two versions (London and Madrid) are already in the pipeline. Sticking with Kingston for now, the update features an increase in tools for IT service management thanks to a new supervised machine learning capability. Automating incident categorization, this machine learning ability speeds up response and resolution times, with one-click access to wish lists, major incident management, and the use of benchmark
In terms of IT service management, updated Kingston versions of ServiceNow offer users a supervised machine learning capability that automates incident categorization for a faster response and resolution time. There's also one-click access to order status and wish lists, use of benchmark data to create personalized recommendations, and major incident management, with the aim of providing an end-to-end, full-process solution for users to solve issues with ease.
ServiceNow products

While ServiceNow is often described as a singular platform, the truth is that it can actually be divided into three key facets; the Nonstop Cloud, the Now Platform, and the various Cloud Services that ultimately make up its service offering.
The Nonstop Cloud
The Nonstop Cloud is the name given to ServiceNow's cloud infrastructure, and, as the name suggests, it is always active for users and customers. ServiceNow boasts that no customer instance will ever be taken down or offline for any reason, while the multi-instance model that is unique to ServiceNow means you can customize your cloud services to suit your needs and perform upgrades at a time that best serves your business.
ServiceNow is also dedicated to making sure that its Nonstop Cloud is compliant with global regulations and highly secure. It is also scalable, with the ability to offer users instance redundancy between data centers in every location.
The Now Platform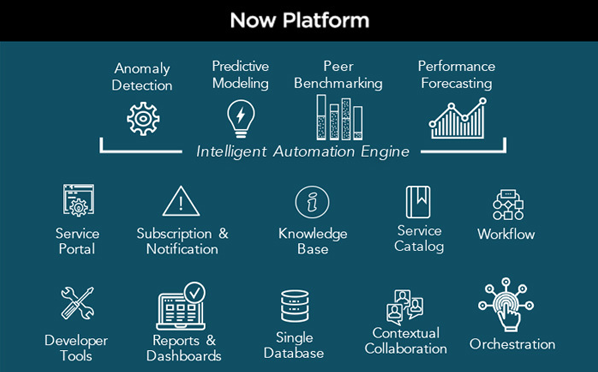 The Now Platform works using a single data model, ensuring no data silos – image courtesy of ServiceNow
The Now Platform is an out-of-the-box solution that brings multiple primary capabilities and reusable elements into play across your ServiceNow cloud services or custom apps. Each aspect runs directly from the Now Platform, and anyone in the business can build new applications that work with speed. Real-time notifications and service catalogs mean proactive service is encouraged, while work can be assigned and prioritized by different groups and departments with ease.
ServiceNow web services that come as part of the Now Platform include:
Automated testing framework
configuration management database
Edge encryption
Intelligent automation engine
Knowledge management
Performance analytics and reporting
Service creator and catalog
Subscription management
Workflow
Whilst these are the majority of features within the Now Platform, other tools are available which offer further levels of functionality for ServiceNow users who have taken (or are intending to take) a deep dive into customization and mastery of the system.
Cloud services
The final aspect of ServiceNow web products is its cloud services. These are split into five categories: IT, Security, Customer Service, HR, and Business Apps. Together, these five aspects form the real core services that has made ServiceNow popular with 17million users across the world.
Here is what each category offers users:
IT
IT Service Management, IT Operations Management, and IT Business Management tools can all be found under the heading of IT. Each of these subcategories contain a huge amount of features. To get an idea of the range available, here are the key tools that make up each: [Infographic?]
IT Service Management – Incident and problem management, cost management, benchmarks, survey and assessment, service catalog, change and release management, request management, configuration management database, asset management, knowledge management, service level management.
IT Operations Management – Event management, cloud management, orchestration, service mapping, operational intelligence.
IT Business Management – Demand management, resource management, project portfolio management, application portfolio management, agile development, cost transparency, financial planning and reporting, software asset management, performance analytics.
Security
As you would expect, ServiceNow web services take security very seriously. If they didn't, it would be unthinkable that so many users around the world would buy into the product. An Enterprise Security Response engine, ServiceNow's security capabilities allow you to respond to incidents, fix any vulnerabilities in your system, and detect threats before they become a real concern. There are dedicated, role-based dashboards, whilst intelligent workflows, syncing with IT services, and orchestration make protecting your business easy. There are also automation options available, so you can put your trust in the system and complete more-pressing tasks. What's more, the ServiceNow Governance, Risk, and Compliance (GRC) capability allows you to make safety more efficient across your entire platform thanks to continuous monitoring and prioritization of threats. Combined with the automation aspect, threats can be dealt with at speed.
Customer Service
Customer service tools are not just aimed at increasing customer satisfaction, although that is certainly part of the focus. In fact, the ability to connect customer service with field service technology will allow you to boost the performance of your service delivery team, driving customer satisfaction in a way that engages staff. The Field Service Management tools create an integrated, proactive service thanks to a drag-and-drop interface where you can easily match a technician's skills, available inventory, and geographic location to pressing tasks. It's also possible to connect ServiceNow's customer service tools with those in other departments, helping you to identify and resolve issues as they arise. This in turn will reduce costs, and further drive customer satisfaction.
Knowledge management is also key in ServiceNow's customer service aspect. An out-the-box solution, it is easy to create workflow and publishing tools that provide custom content to agents, employees and customers alike to resolve issues.
HR
Using ServiceNow's HR tools, you can create a completely custom-branded site with ease, allowing you to develop a portal that matches the tone, feel and look of your business. This portal, the Employee Service Center, is a place where your team can find the guidance and HR information that they need. A knowledge center and tracking means that they can submit and track cases when they require the help of the HR department, and are constantly kept up to date with the progress of their ticket.
When it comes to HR, ServiceNow products can improve employee satisfaction and reduce caseloads through the portal's ease of use. Relevant and up-to-date HR information can be accessed quickly, while important information can also be communicated and shared across the relevant groups when necessary.
Business Apps
As a service whose users have come to rely on third part add-ons, it's no surprise that ServiceNow web services includes a comprehensive selection of tools to create such apps. Not only will these ServiceNow products let you develop your own apps, but training and guidance is also on offer to make your program the best it can be. Once you've created an app that suits your needs you can even choose to put it up for sale, helping thousands of other ServiceNow users around the world.
ServiceNow's business apps utilize agile development, streamlining development, testing, project tracking, and deployment by bringing the development lifecycle into one system and encouraging connectivity with other related activities across your platform. Scrum or Waterfall development is supported.
Hopefully now you will have a greater understanding of not only ServiceNow web products, but also what they can do for your business. With the right team or individuals managing the running of your ServiceNow platform, there can be no doubt that your company will see real benefits across each of the above areas. For further insights into ServiceNow technology, subscribe to the Nelson Frank blog.