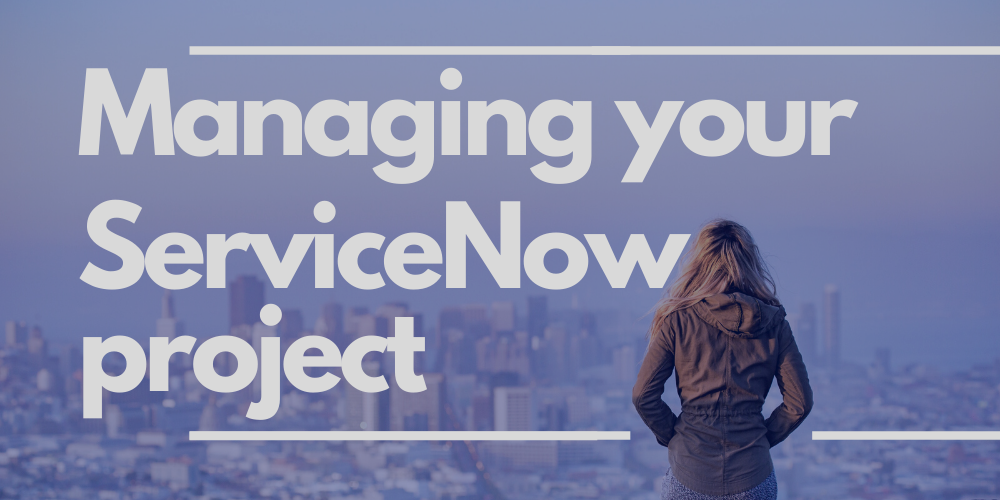 Migrating to ServiceNow is a big task, but one that will ultimately bring huge benefits to your business. Its workflows are more complex and powerful, and its versatility means it can be used beyond just your IT department. Companies the world-over have started with the hope that it would transform their tech management, only to expand its use into HR, operations and much more.
When you're implementing a product that could eventually be the backbone of your organization, then getting that right is essential. That means knowing how to manage it correctly, from beginning to end. A collective effort is needed across the entire organization to ensure total buy-in, but to ensure that requires effective leadership on a number of fronts.
Where to begin
It all starts with a solid roadmap – picture any long journey and you need a start and end point. You'll likely have other stages too, such as resting, getting gas, or stopping for food and drink. Think of ServiceNow as the ultimate road trip and plan accordingly, with short and long-term goals for your migration, as well as having as much detail as you can on how you'll actually get there.
This will then be used to measure the success of the project. For example, if you're clear on expected timescales from the start, then you can celebrate milestones as well as target areas for improvement in real-time. It also allows a better level of insight for stakeholders while you're mid-project. Whether it's costings or the impact on productivity, a boardroom needs evidence of the wins that the platform is bringing.
Time is one metric, but you also have other KPIs specific to both your industry and business within that, which will help to define its success. From Application Security and Change Management, to Finance and Customer Service, you need to be clear on how, what and where your ServiceNow implementation will be judged by C Suite members.
Joel Hall, Account Executive at Contender Solutions, agrees that there needs to be a comprehensive framework surrounding it. "The most successful ServiceNow projects are built around more than just a solid plan for architecture and configuration," he says. "They are defined by the outcomes they will provide the organization and include clear vision and communication for the changes to come. They also account for the monitoring of key metrics to ensure the value gained is maintained and enhanced over time."
New hire vs old hire
If this was that road trip we talked about, you'd also want someone you trust to navigate, so try to find room in your budget to make sure you have at least one person on board that's experienced with ServiceNow implementation. That could be a ServiceNow Partner who can guide you through it, a permanent hire, or even a contractor with those specialist skills you need in the short term.
Your tech teams will no doubt be keen to get their hands on a new stack and get their fingers dirty, and should be encouraged to do so, but if time is a factor then you really need someone who can do more than just experiment. ServiceNow is too complex to simply guess at – if you want to get the most out of it, you have to have someone who knows the fine details and how to harness its full potential. Otherwise, to stick to the travel metaphor, it's like buying a Ferrari to use just for commuting.
Using your existing tech team without any extra firepower will likely just result in workflows being imported from one stack to another. And if you simply migrate your legacy workflows, you're missing out on the power and complexity that ServiceNow can bring to them, as well as risking them simply not functioning correctly, either in the short-term, or further down the line as updates happen on the platform. That means explaining to stakeholders why this investment has resulted in very little visible change or potentially a complete lack of functionality.
ServiceNow may be seen as an off-the-shelf solution, but it's too adaptable to be just that. The customizations are endless, so you should be prepared to invest time and effort into getting it just right. In the most recent Nelson Frank Salary Survey, the most common reason for delayed implementation was unforeseen customizations: don't think of it as just a short-term project, allow your team the room to fully adapt ServiceNow for your specific business needs. Cutting corners now will result in failure further down the line.
Communication
When implementations go wrong, it's rarely the platform that's to blame. In fact, more often than not, it's simply down to end user buy-in. People don't like change, and fundamentally that's what this is. Revolutionary? Yes. Business transforming? Absolutely. Different to the last solution? This too, and that's the battle you'll be fighting. Once you've got the building blocks ready and your ServiceNow team is hard at work implementing it, your next move is to go in hard on communicating the project.
Your marketing department is a great resource for being able to help put out a positive message that relays exactly why you're implementing ServiceNow, so work with them to form an action plan to ensure that the entire company is on board before go-live. If you rely on the platform to win over those who'll use it then you may as well get ready for failure now. You may be sold on its transformative power, but you should be – an end user who'll use it for day-to-day reporting or analysis isn't going to have the same outlook.
Name your implementation and brand it, and make sure the project has a face, so to speak, right from the outset. Brand it the same way you would any other product and maintain visibility in the run-up to launch, from pop-up banners to screensavers. Hold workshops and drop-ins with end users, and have a solid training plan ahead of your go-live. When employees are familiar with what's happening, anxiety levels decrease and they're able to embrace the new way of working far more easily. Getting people on board is a way bigger investment than just what surrounds its launch.
It takes time
Ultimately, you've invested in a huge platform that can potentially transform many different areas of the business. And with any big change, it's not as simple as just switching it on. Nearly a third of ServiceNow implementations experience delays, largely for reasons within your control.
This isn't a simple solution, it's a comprehensive one: you should never be fighting the platform. The work you put in ahead of implementation and your go-live will be what defines its success.
Looking for ServiceNow talent for your next project?
Our Candidate Search is the largest bank of qualified and vetted ServiceNow professionals in the world, and it's free to browse!