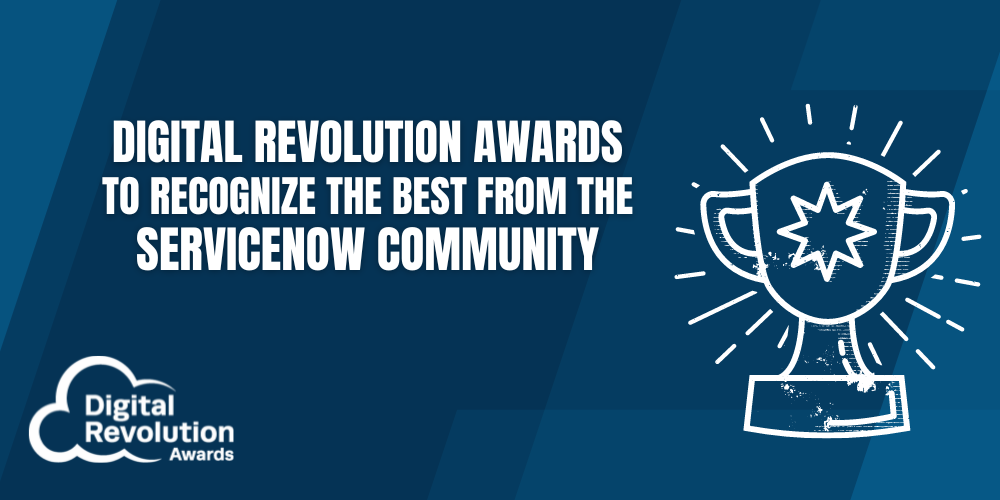 The Digital Revolution Awards has announced a new category for its 2023 edition that recognizes outstanding ServiceNow partners, opening it up to those in the ITSM/ITOM community who are achieving excellence and making it a better place to work.
The annual awards celebrate the best individuals and organizations among the cloud community and have previously included categories for those working with other leading cloud technologies, such as AWS, Microsoft, and Salesforce.
However, 2023's edition sees the introduction of the brand new ServiceNow Partner of the Year category, eligible to partners within the ecosystem that have achieved success in the last 18 months. This can be through a product or service they have created, a digital transformation project they have been involved in, or simply outstanding results as an organization in their own right.
"ServiceNow plays a vital role within the cloud community, and I'm delighted to welcome individuals and organizations that have achieved success to become part of the Digital Revolution Awards for 2023," said Kashif Naqshbandi, Chief Marketing Officer at Tenth Revolution Group, the firm behind the awards.
Ready to nominate your ServiceNow hero?
Recognize someone that's making a difference today.
Whilst the Partner of the Year is specific to those from the ServiceNow partner community, there's also room for employers and professionals to recognize themselves or their peers across other categories including Tech Star of the Year, Outstanding Leader of the Year, and Excellence in Learning and Development, to name a few.
The awards are a non-profit initiative that were created in 2020 to uplift and celebrate tech heroes who had previously gone unnoticed, but suddenly found themselves in the spotlight as demand for digital services surged during the pandemic. They've since moved on from an online celebration to hosting in-person events around the world, with this year's award ceremonies being held in Las Vegas, London, and Frankfurt.
The full list of categories for the 2023 Digital Revolution Awards is:
"At a time when there's a massive skills gap that threatens to hold back progress, there's never been a more important time to celebrate the outstanding achievements that those in the ServiceNow community are making," added Naqshbandi. "The Digital Revolution Awards help to make sure the spotlight is shone on those working with cloud technology in order to truly celebrate the exceptional work that is being done."
Nominations are open now for any individual or organization to take part in and can be made on the Digital Revolution Awards website, with a closing date of 31 October 2022.
Learn more about the Digital Revolution Awards
To find out more about the awards, get involved, or nominate the businesses or individuals making a difference to the ServiceNow community, visit the Digital Revolution Awards site today.