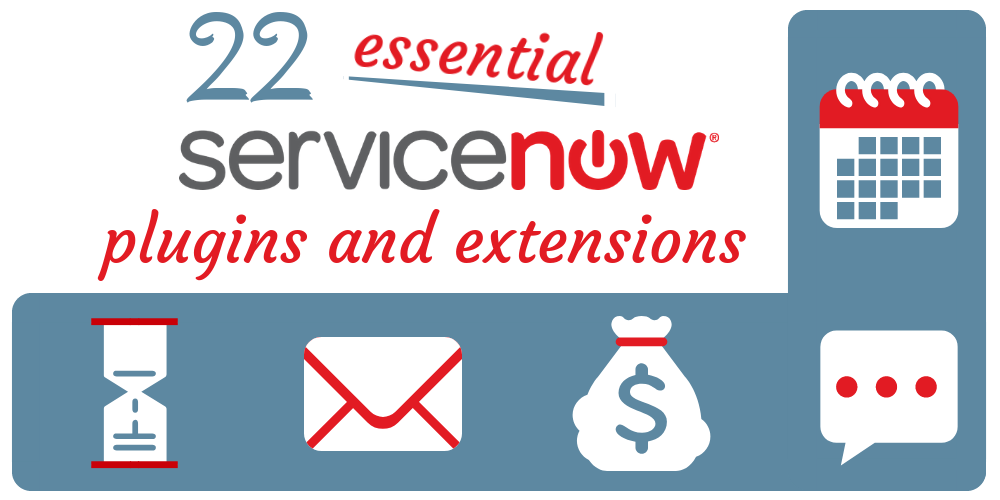 Did you know that there's a vast range of ServiceNow plugins available that can help boost revenue and productivity in your business?
ServiceNow has proven to be a hugely popular IT management tool over the last 14 years—the fact that the Californian company has grown to the stage where it has a revenue of $1.93 billion and employs over 4,500 team members is surely a testament to that. And with so many options for personalization, it's not hard to see why.
In its marketing blurbs, ServiceNow likes to say that its product allows users to 'gain complete portfolio and financial visibility, align better with the business, and accelerate service delivery.' Before we look at how the various ServiceNow plugins and extensions can make that happen, however, we should look at what exactly ServiceNow provides.
What is ServiceNow?
Plugins in ServiceNow streamline what is already an impressively versatile piece of software. A cloud-based IT management tool, ServiceNow IT Service Management (ITSM) allows you to transform your IT infrastructure and bring legacy systems and multiple functionalities under the wing of a single program. As well as ITSM, the other two main branches of ServiceNow's offering are IT operations management (ITOM), and IT business management (ITBM).
Thanks to the cloud, ServiceNow provides employees at any level in the company with access at all times, no matter where they are, or what they are doing. They need only a broadband connection and valid login details to use the software. What's more, part of ServiceNow's remit is to make its tools simple to learn, configure and use, catering to both large and small businesses alike, for use by individuals or large teams. Automation is also a big part of ServiceNow's appeal, particularly when it comes to service management, and the user-friendly tools and thoughtful UX design (such as drag-and-drop capabilities) ensure ease of use.
As ServiceNow is a native system, it can be incredibly simple to customize it in creative ways, ways that benefit your business by meeting specific needs. By picking and choosing from the immense array of ServiceNow plugins and extensions on offer, you can craft a ServiceNow platform that is exclusively tailored to you.
The benefit of ServiceNow plugins
While there are ServiceNow plugins that cater to almost every need, many would benefit from discovering ServiceNow plugins that can save you and those in your business time, as well as helping to boost revenue. After all, these are the key goals of any manager and C-suite executive.
Speaking about ServiceNow plugins, Myles Molloy, head of business development at Unifii, had this to say: "We understand there is massive power in leveraging plugins and encouraging customers to take advantage of them within your ServiceNow deployment. Plugins are pre-built capability sets that can be used to accelerate your implementation and leverage more out of the box (OOTB) features provided with your instance.
"The plugins that can be used will depend on your platform version and license mode. These plugins can then be enhanced to meet business needs as required."
ServiceNow plugins for increasing productivity and boosting revenue

Connect spoke for flow designer
Providing actions for a process analyst to use when designing flows, connect for flow designer allows for greater automation when it comes to conversation creation. You can also add users and send messages to conversations with ease.
Field service spoke
Using the field service spoke plugin, flow designers can better use automation processes. The creation of work orders and work order tasks can be carried out automatically by the system, as can updates to work orders and work order tasks that already exist within the system.
Checklist Pro
Checklists are a great way to enforce best practices and track work on the ServiceNow platform. Checklist Pro by TyGR LLC is a handy tool that lets you create custom checklists for any ServiceNow table, as well as being able to select when  your checkbox items will appear. Unlike the platform's native option, you can also choose who is able to edit them, as well as define your own rules for closing, improving the reliability of your checklists in the process. It's a great way to reduce errors as well as improving productivity in the process!
Incident management — major incident management
One of the essential plugins in ServiceNow, incident management gives you and your company an easy-to-follow process to identify potential major incidents. This allows for faster and better responses, and means that you will be on top of the situation, rather than firefighting.
Salesforce Integration by Crossfuze LLC
A free-to-use version of this ServiceNow Salesforce plugin is available to use for base tables, such as cases and contacts. Bi-directional integration for Salesforce cases, accounts, opportunities, users and more makes this ServiceNow Salesforce plugin simple to use, and it has also been designed to scale large amounts of data without unduly affecting either system
Knowledge management — external content integration
A ServiceNow plugin for adding external content to your knowledge management field. You will need to spend a bit more time configuring and calibrating the plugin, but once you have, it will create copies of external content on ServiceNow as knowledge articles to make them searchable. The plugin then indexes these articles using Zing Search. It's worth noting that you must have reuse and copy privileges in place before using the knowledge management plugin to configure external sources in this way.
Connect Chat
A ServiceNow chat plugin, Connect Chat is a real-time messaging tool for group and individual use. Files can be shared, and collaboration on records can be agreed instantaneously. This ServiceNow chat plugin also animates communication relating to visual task boards, topics, and groups.
Using the Connect Chat ServiceNow chat plugin, you can:
Start a private conversation with another user.
Establish a group chat for user groups with more than three people.
Link your conversations to records, allowing work notes, comments and more that appear in conversations to be added directly to records.
Share files, records and links with drag-and-drop functionality.
Appointment booking and major incident management
Appointment booking gives customers the chance to organize service appointments by using a service panel. The major incident management plugin for ServiceNow allows you to escalate an issue to your company's major incident team.
"Some of the interesting plugins that have been released with Kingston include Appointment Booking and Major Incident Management," adds Myles. "These enable users to book their engineer visits via the self-service portal and provide more-structured management of major incidents using OOTB capabilities."
ServiceNow Orchestration plugin
The ServiceNow Orchestration plugin allows workflow to automate business services, infrastructure tasks, and applications. What's more, the ServiceNow Orchestration plugin can control deployments, information gathering, and configurations, as well as web services.
Performance analytics — human resources lifecycle events scoped app
You will need a performance analytics premium license to activate this particular plugin. Once you do, it will provide detailed, in-depth analysis for lifecycle events (stages that an employee moves between in the company) within your human resources process.
Time recording for customer service
An invaluable tool for customer service agents, this time recording plugin can be used for cases, case tasks, and more. Once a time recording has been made, a time card and time sheet can be generated automatically for customer service managers and supervisors to approve.
SalesWon ServiceNow CRM plugin
Developed on the NOW platform, the SalesWon ServiceNow CRM plugin eliminates the need for integrating separate sales and support applications. Using the SalesWon ServiceNow CRM plugin, you can move away from legacy systems and automate sales processes thanks to workflows and business rules.
I18N: Internationalization plugin
All of the elements needed to translate your ServiceNow instance without a pre-loaded translation, the I18N: Internationalization ServiceNow language plugin can be successfully activated in just a few steps:
Find to System Definition > Plugins.
Once on the list, right-click the plugin name click Activate/Upgrade.
The ServiceNow language plugin may depend on other plugins, and these will be listed alongside their activation status.
Select the load demo data check box if available.
Visual Task Board Flow Designer Spoke
Using the visual task board (VTB) flow designer, process analysts are able to create flows that can manipulate the data attached to specific tasks (including task boards, board members, and assignees) without the need for additional code to be written.

Customer communities
Customer communities is one of the best ServiceNow plugins for widespread collaboration. You can connect and engage with stakeholders including customers, prospective customers, partners, and employees using the customer communities plugin, but you do have to hold a license for Customer Services Management to use the plugin.
Javascript editor
One of the essential ServiceNow plugins for anyone in the business who works with business rules, UI actions or client scripts as an administrator, the javascript editor speeds up the process as well as making code more easily readable.
SLA
Use the SLA plugin to simplify the management of service level agreements (SLAs). More comprehensive than OOTB options, the SLA plugin for ServiceNow offers greater functionality and flexibility and allows you to deal with multiple SLA records per ticket, rather than having to make a single escalation for each ticket.
ServiceNow connector for Jira
This ServiceNow Jira plugin makes complexities in workflow invisible, streamlining your application lifecycle management (ALM) systems. With a ServiceNow Jira plugin such as this, each ALM team works with a system that best suits their needs, while the ConnectAll service brings them together without the need for manual operations. The ServiceNow connector for Jira is customizable and has been built on an enterprise-level infrastructure to give the best performance and functionality possible from a ServiceNow Jira plugin.
ServiceNow Azure plugin
It's important to note that you will need to have a Microsoft Azure subscription before you try to initialize the ServiceNow Azure plugin. Microsoft Azure Cloud for ServiceNow is available as a separate subscription and requires the ServiceNow Azure plugin to work.
Here's what you need to do to get started:
Select an Azure service principal for discovery — you will have to select a service principal to access a subscription. Providing ServiceNow with your Azure credentials allows your ServiceNow instance to find and verify your Azure subscription.
Specify your Azure Client ID and Tenant ID when configuring the ServiceNow instance.
Configure the geographical regions that the Azure system can move resources to.
Provide enrollment access information from your Microsoft Azure Enterprise Agreement to enable integration of billing and reporting with ServiceNow through the ServiceNow Azure plugin.
Microsoft SCCM integration
Directly import SCCM data into the ServiceNow configuration management database using this ServiceNow SCCM plugin.
Imports can be scheduled using the ServiceNow SCCM plugin, bringing relevant data into your ServiceNow instance in either a full or incremental data import. The ServiceNow SCCM plugin integration ensures that only the necessary data is synchronized from Microsoft's SCCM to the ServiceNow CMDB, as the SCCM database is not written due to its status as an authoritative source.
ServiceNow AWS plugin — AWS Service Catalog
Create and manage a catalog of IT services approved for AWS use with the ServiceNow AWS plugin. Virtual machine images, software, databases, servers and more can be cataloged and centrally managed, helping you to reach compliance requirements with consistent governance. Using the ServiceNow AWS plugin, users can quickly and simply deploy the IT service they need.
ServiceNow Outlook plugin — Change management integration with Outlook
With the ServiceNow Outlook plugin, events that use a standard iCalendar data format for events (such as those created in Outlook) and specially formatted emails can be sent from a ServiceNow account to attendees. If you are sent a change request, then the ServiceNow Outlook plugin automatically creates an email formatted for iCalendar. Calendar integration using the ServiceNow Outlook plugin means that you are informed whenever you are assigned to a schedulable change, a change is reassigned, or a change gets rescheduled.
The importance of system update sets
Hopefully, now you will have a better understanding of what ServiceNow plugins are available to increase productivity and revenue in your business. It is worth keeping system update sets in mind, however, as they are the best, and quickest, way to migrate plugin configurations between ServiceNow instances and versions. That being said, an update set will not necessarily capture everything automatically, and you will need to ensure that your ServiceNow instances are all using the latest version before you begin migrating code.
Some ServiceNow plugins are already activated for new customers starting an instance on the latest version of ServiceNow, but if you are upgrading from a previous instance then you may need to request plugins. Some plugins for ServiceNow have the potential to cause compatibility issues when working across instances, so making sure nothing creates unworkable clashes is vital.­
For more insights into ServiceNow, including how to get the most out of your platform as well as technology trends from across the ecosystem, subscribe to the Nelson Frank blog.